IUP Army ROTC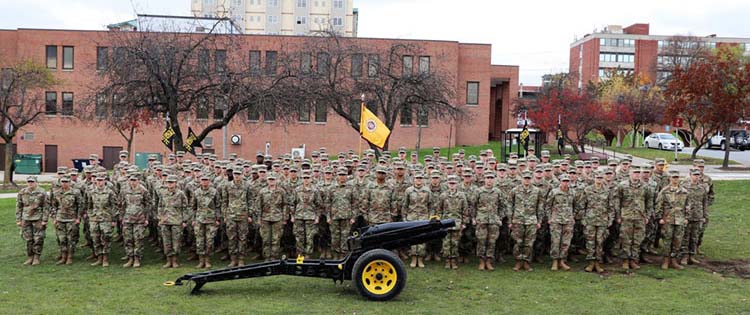 The Army Reserve Officers' Training Corps, commonly known as ROTC, teaches students leadership and management skills that help prepare them for successful careers—in the US Army or in civilian life.

Established at IUP in 1950, ROTC is considered a college elective for students that decide to participate. Students are not joining the Army by enrolling. Students that apply and are chosen to receive contracts will become commissioned officers in the Army upon successful completion of the ROTC course requirements. IUP ROTC and its satellite schools have commissioned 2,065 officers since the program began.

The ROTC program has two phases: The Basic Course is usually taken during the freshman and sophomore years of college. It involves the study of Army history, organization, and structure. Students can expect to learn basic military skills, such as rifle marksmanship, first aid training, and land navigation. The Advanced Course is typically taken in the junior and senior years, and it focuses on tactical operations and military instruction. Management, leadership, and command techniques are stressed throughout both courses.

IUP's Military Science Department is housed in one of the largest ROTC facilities on the East Coast, Pierce Hall. Our facilities include classrooms with multimedia and Internet capabilities, an indoor pistol and rifle range, and a gym. There is also a computer lab and lounge for cadets to work, study, or relax. The Cadet Lounge is the main location for students in ROTC to get tutored in academic and ROTC curriculum. Cadets also have access to an outdoor track, several athletic fields and facilities, and a leadership laboratory.

The skills learned and developed through the ROTC program will set participants up for success in the military, and they are highly sought after by a wide range of employers.

Finally, with the publication of the AY 2017–18 Course Catalog, the Department of Military Science now offers a minor in Military Leadership. This is available for all graduates of IUP's Army ROTC Program. Please consult the Course Catalog for details.
Army Nurse Corps
The Army Nurse Corps is open to current and future Indiana University of Pennsylvania Nursing majors.
Scholarships
Army ROTC provides several scholarships each year to motivated students willing to serve their country as an Army officer.
Soldiers
If you are a veteran returning to IUP or one of our partnership schools, you are eligible for a number of benefits.
Students
Events
Events happening with IUP Army ROTC
Support IUP ROTC Students
When you make a gift in support of our department, you invest in the world's next generation of leaders. Scholarships and program support create the best possible student experience.
Support Our Students
News
There are currently no posts to display. Please check again soon!