Students in Indiana University of Pennsylvania's Rho Tau Chi military service fraternity collected enough toiletries and supplies to create 3,000 holiday stockings for homeless veterans in Indiana County and western Pennsylvania.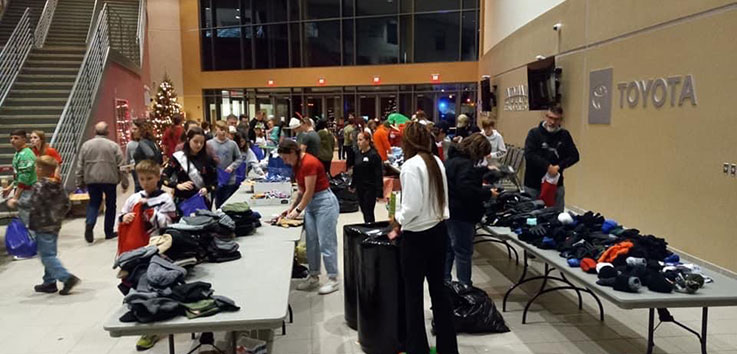 The donation is part of the Homeless Heroes Holiday Stocking Project, which provides toiletries and other necessities to homeless veterans at the holidays "packaged" in Christmas stockings.
This is the sixth year for the project, which annually generates about 2,500 filled stockings for homeless veterans.
Rho Tau Chi's 24 members were responsible for collecting and organizing a variety of donated items for the stockings, ranging from toiletries, gift cards, and sockets to gloves and winter hats. The students were then joined by members of the community on November 27 for a holiday "stocking stuffing" party at IUP's Kovalchick Convention and Athletic Complex. Holiday cookies and other refreshments were donated by local businesses, including Roseann's and Aramark.
Riley David, a medical imaging major from Mansfield, is president of Rho Tau Chi and led the project.
"This event couldn't happen without my fellow leads Rachel McCollum, Angel Flores, Nick Shaeffer, Elizabeth Caldwell, the members of the clubs involved, and the incredible members of this community. I thank you from the bottom of my heart," David said.
The stockings, once filled, are distributed to residents of the Indiana County Veteran's Parsonage and to the Veterans Leadership Program of Western Pennsylvania and Shepherd's Heart Fellowships and Veteran's Home in Pittsburgh.