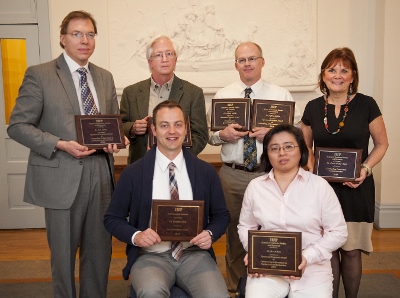 Sponsored Programs Award for Outstanding Achievement in Curriculum and Instruction
Dr. Rick Adkins (second row, left) and Dr. Yu-Ju Kuo (front row, right), Department of Mathematics, project directors for the National Science Foundation grant, "Scholarships Creating Opportunities for Applying Mathematics (S-COAM)," which has provided one million dollars since 2010 to support more than 70 students. In addition to scholarships, the program enhances university and departmental offerings by organizing hands-on technology workshops, bringing in a diverse group of external research speakers, and supporting student travel for conference presentations.
Sponsored Programs Award for Outstanding Achievement in Public Service
Dr. John Anderson (second row, second from left) is the director of the Administrative Leadership Studies Research and Training Center, which focuses on several different grant activities. Currently his areas of research include Disadvantaged Business Enterprise opportunities for three federal administrations; conducting evaluations of drug and alcohol treatment programming; juvenile offender risk and needs assessment; and disproportionate minority contact between juveniles and police officers.
Sponsored Programs Award for Outstanding Achievement in Research and Graduate Dean's Award for Outstanding Commitment to Sponsored Programs
Dr. Jeffery Larkin (second row, second from right), Department of Biology, focuses his research on understanding the ecology of imperiled wildlife. His goal is to synthesize research findings into applied information which improves management or promotes the recovery of wildlife species and their habitats. Outreach to private landowners, agency biologists, and policy makers results in the implementation of science-based management guidelines. Currently, the outreach component of his work employs five full-time conservation planners and foresters who are housed at the USDA and U.S. Fish and Wildlife Service field offices.
Sponsored Programs Award for Outstanding Center and Institute
Ms. Karen Goltz-Stein (second row, right), Department of Communication Disorders, Special Education, and Disabilities Services, is the director of the Speech, Language and Hearing Clinic. She works with the Speech-Language Pathology program's faculty to provide an environment that supports evidence-based practice to improve the quality of life of people who have disorders of communication and swallowing. This primary focus of the center provides a context in which students can translate best clinical practice from the classroom to the patients they are seeing under faculty supervision.
IUP Research Institute Award for New Investigator
Dr. Brandon Vick (front row, left), Department of Economics, directs a project that analyzed the career dissatisfaction and retention of Pennsylvanian physicians, physician assistants, dentists, and dental hygienists, focusing on rural/urban and male/female differences. The project was funded by the Center for Rural Pennsylvania.