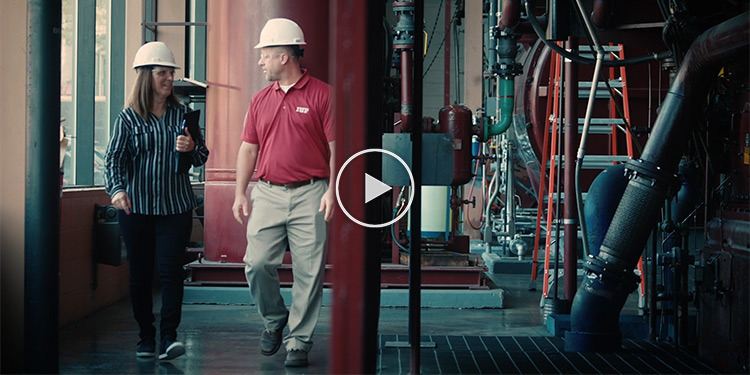 Free Safety Consultations Make Big Impact on Businesses
Employers can receive no-cost safety, health, and industrial hygiene evaluations by signing up for a program run by IUP's Safety Sciences Department.
Through the Pennsylvania Occupational Safety and Health Administration Consultation Program, IUP consultants conduct occupational safety and health evaluations and work with business owners to address issues.
The on-site visits are confidential since the program operates independently from Occupational Safety and Health Administration's regulation enforcement. (The exception would be if an employer refuses to correct an imminent and serious hazard in a reasonable amount of time, although this is extremely rare.) 
Thousands of businesses, from factories and laboratories to retail stores and residential/commercial construction projects, have used this no-cost program to protect their workers and make sure they are complying with OSHA regulations. Submit your request to get on the list. The dates fill up fast.
Request a Free Consultation
Some Ways the Program Can Help Businesses
Employers may be able to:
Avoid OSHA citations and penalties
Qualify for deferral or exemption from programmed OSHA inspections
Reduce workers' compensation costs
Reduce workplace injuries and illnesses
Take advantage of free on-site compliance assistance training
Use off-site technical assistance to address hazards
Have free occupational hazardous noise and industrial hygiene monitoring administered
How Consultations Work
Learn about the steps involved and the support available to help your business.
Tackling Gray Areas
Premier Building Restoration
"Every job site is different. … The PA OSHA Consultation has been great at helping us navigate the gray areas."
 Knowing OSHA Rules
Weavers Way Coop
"The knowledge base is unimaginable. … They're dealing with the OSHA document, which is hundreds of pages long, and they just know it off the top of their heads."
Catching What You Miss
Highwood
"I know it's the reason why we get better each year, because it is another set of eyes. … You walk by things, and you don't necessarily recognize a hazard because you've seen it time and time again."
Strengthening Businesses
Steel Fusion
"We took them into every corner of our laboratory and said ` okay, what do you think of this?' They gave us their opinions, which only made us stronger and a better company."
Handling Hazards
GalvTech
"The process is easier than you think. … If they point out a hazard or they point out a deficiency in a program, all you have to do is fix it. … They're there to help you."
Finding Solutions
Cannon Boiler Works Inc.
"Because (they) work with the small business community, they're always very supportive in a problem you may have or come up with, with multiple ways to correct it."