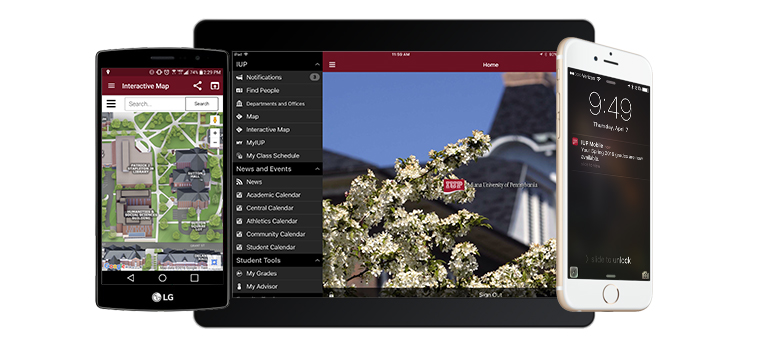 IUP Mobile
IUP Mobile connects you to Indiana University of Pennsylvania with personalized information, news, and events.
Log in with your IUP Network ID-the same as MyIUP-to access your schedule, your grades, the campus Find People directory, a calendar of university events, push notifications, an interactive map, MyIUP integration, coverage of athletic events, links to IUP on YouTube and LinkedIn, and more.
Academics
Notifications: Get notified on your phone when you need to register for classes, check your grades, pay your tuition, and more.
My Schedule: Your daily class schedule directly with locations and times. You'll never be late for class again.
Find People: Search the IUP directory for students, faculty, and staff. Call or e-mail right from the app.
Departments and Offices: Contact info for IUP departments, colleges, and offices. Call, e-mail, or get directions right from the app.
My Grades: View your midterm and final grades.
MyIUP: Sign in to stay updated with your MyIUP account.
My Advisor: View your advisor's e-mail address, phone number, and office location.
Maps
Campus Maps: View an interactive map of IUP's three campuses. Search for buildings and get directions.
News and Events
News: Stay current with the latest news on campus.
Events: View a variety of events by day or month, including student events, performances, athletic events, and academic deadlines.
Faculty Tools
My Advisees: Faculty members can stay in touch with their advisees by having student contact information at their fingertips.
My Class List: View the names of students by class.
Media
Alumni Connections: Find alumni events in your area, and stay connected with the latest news through Facebook and LinkedIn.
Social Media: Now it's easier to keep in touch with IUP while you're on the run with direct feeds from all of IUP's Facebook, LinkedIn, Twitter, and YouTube.
IUP Athletics: Get scores, news, and schedules for Crimson Hawk sports, athletes, events, and more.
Learn More