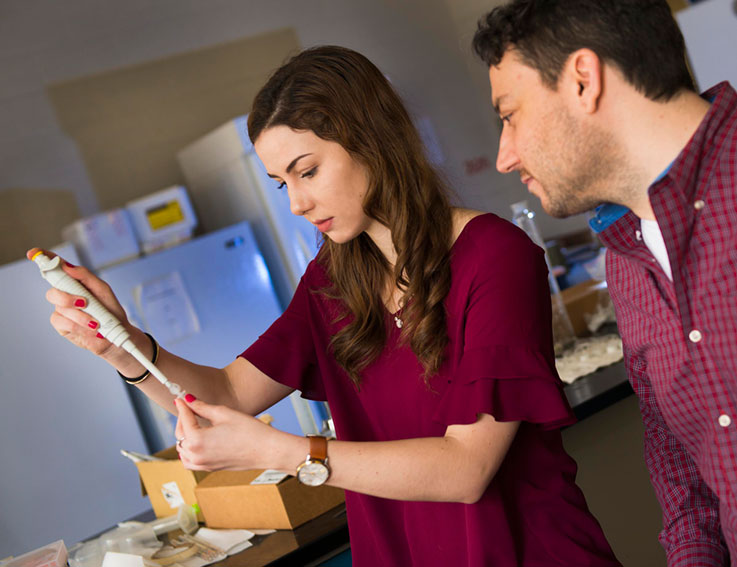 To participate in the STEM Academy, high school students must have a 3.0 overall GPA, be recommended by their school guidance counselor, and submit a letter of recommendation from their science, mathematics, or technology teacher.
First-time STEM Academy students will apply through the application process facilitated by IUP's Office of Admissions and participate in the required orientation to learn about IUP policies, opportunities on campus, and to take placement exams in Math and English.
Students must provide their own transportation to and from IUP.
Tuition and Fees
Participation in STEM Academy will translate into significant savings on the total cost of a college degree. Dual-enrollment students receive 75 percent off the regular IUP tuition rate. Additional scholarships for STEM Academy can add to the savings.
Dual-Enrollment Tuition Information
Scholarships
A limited number of program founding scholarships will be available to eligible applicants. These tuition, travel, and book scholarships will be awarded based on academic merit to students not eligible for tuition waivers. There is no separate scholarship application and students will be considered for STEM Founding Scholarships based on their completed application materials.
STEM Academy Requirements
STEM Academy students will be expected to complete four courses from the STEM course list (see below). These courses, offered by the Kopchick College of Natural Sciences and Mathematics, may be taken on-site (Indiana, Northpointe, and Punxsutawney campuses) or online.
We encourage students to use the Exploration Areas (below) in selecting their courses. All course selections must be approved by the STEM Academy advisor prior to registration. Students must maintain a 3.0 GPA in STEM courses or students must obtain permission to continue in the Academy.
Following successful completion of a minimum of 12Kopchick College STEM Academy credits, students will be awarded a Certificate of Completion. The completed courses will be put on an IUP transcript but could be transferred to other colleges or universities if the student so chooses.
STEM Academy Course List
IUP Undergraduate Catalog (course descriptions)
Biology
BIOL 103 - Life on Earth
BIOL 104 - Human Biology: How the Human Body Works
BIOL 106 - Human Genetics and Health
BIOL 107 - Introduction to Forensic Biology
BIOL 115 - Biotic Diversity of North America
BIOL 117 - Understanding HIV Biology and Aids
BIOL 118 - The History of Pain
BIOL 119 - Emerging Diseases
BIOL 150 - Human Anatomy*
BIOL 200 - Medical Terminology
BIOL 201 - Principles of Ecology and Evolution*
Chemistry
CHEM 101 - College Chemistry I*
CHEM 102 - College Chemistry II*
CHEM 105 - The Forensic Chemistry of CSI
CHEM 111 - General Chemistry I*
CHEM 112 - General Chemistry II*
CHEM 113 - Advanced General Chemistry I*
CHEM 114 - Advanced General Chemistry II*
Computer Science
COSC 105 - Fundamentals of Computer Science
COSC 110 - Problem Solving and Structured Programming
COSC 210 - Object Oriented and GUI Programming*
Geoscience
GEOS 101 - The Dynamic Earth
GEOS 102 - The Dynamic Earth Lab
GEOS 103 - Oceans and Atmospheres
GEOS 104 - Oceans and Atmospheres Lab
GEOS 105 - Exploring the Universe
GEOS 106 - Exploring the Universe Lab
GEOS 111 - Earth and Environmental Systems*
GEOS 119 - Geology of Energy Resources
GEOS 150 - Geology of National Parks
GEOS 152 - Physical Resources of the Earth
GEOS 154 - Human Exploration of Space
GEOS 155 - Geology of Climate Change
GEOS 156 - Geology of Natural Disasters
GEOS 201 - Foundations of Geology*
Mathematics
MATH 110 - Elementary Functions
MATH 121 - Calculus I for Natural and Social Sciences
MATH 122 - Calculus II for Natural and Social Sciences
MATH 125 - Calculus I/Physics, Chemistry, Mathematics
MATH 216 - Probability and Statistics for Natural Sciences*
MATH 217 - Probability and Statistics
Physics
PHYS 101 - Energy and Our Environment
PHYS 105 - The Physics of Light and Sound*
PHYS 111 - Physics I Lecture*
PHYS 112 - Physics II Lecture*
PHYS 121 - Physics I Lab*
PHYS 122 - Physics II Lab*
PHYS 131 - Physics I-C Lecture* (requires Calculus)
PHYS 151 - Medical Physics Lecture
Psychology
PSYC 101 - General Psychology
PSYC 310 - Developmental Psychology
Science
SCI 105 - Physical Science I
SCI 107 - Chemistry for Everyone
SCI 117 - Chemistry for Everyone Laboratory
*May be designated for a specific major
Math placement required
STEM Academy Exploration Areas
Below are course recommendations that may be used as a guide for students who would like to explore a specific area of study:
Cyber Security and Forensics
BIOL 107
CHEM 105
COSC 105, 110, 210
MATH 110, 121, 125
Engineering and Physics
CHEM 111, 112
COSC 110
MATH 110, 125
PHYS 111/112, 112/122
SCI 105
Environmental Studies
BIOL 103, 115, 201
GEOS 101/102, 103/104, 150, 152, 155, 201
MATH 217
Health Professions
BIOL 104, 106, 117, 118, 119, 150, 200
CHEM 101, 102, 111, 112
MATH 217
PSYC 101, 310
PHYS 151
Co-Curricular Sessions
On-campus STEM Academy students will have access to supplemental instruction (co-curricular) sessions, faculty, and peer mentoring, and will be encouraged to participate in the following programs offered at IUP during the academic year.
The Kopchick College of Natural Sciences and Mathematics and the IUP Sigma Xi Honors Society offer a series of lectures featuring research programs, Kopchick College faculty and prominent speakers discussing topics interdisciplinary in nature of interest to faculty and students from a variety of academic fields and to the general public.
In early April, the Kopchick College hosts a special program featuring the accomplishments of women scientists. IUP faculty and women students present their research projects and compete for awards. A special feature of this program is specifically designed for area high school students.
STEM Academy participants will be invited to participate in selected activities of the U-SOAR Program offered in July and August. This is an opportunity to prepare for conducting scientific research under the mentorship of a faculty member.
IUP Scholars Forum
In early April, the university hosts a series of events featuring original research and scholarship generated at IUP.
Independent Research
Upon completion of two STEM Academy classes with a 3.0 GPA, students will become eligible to apply for participation in independent research projects. Kopchick College faculty will serve as supervisors of research projects; students will be expected to present the results of their work at appropriate professional events. This is an opportunity to prepare for conducting scientific research under the mentorship of a faculty member.
For more information, please email dean-cnsm@iup.edu or call 724-357-2609.