Undergraduate Summer Opportunities for Applying Research Program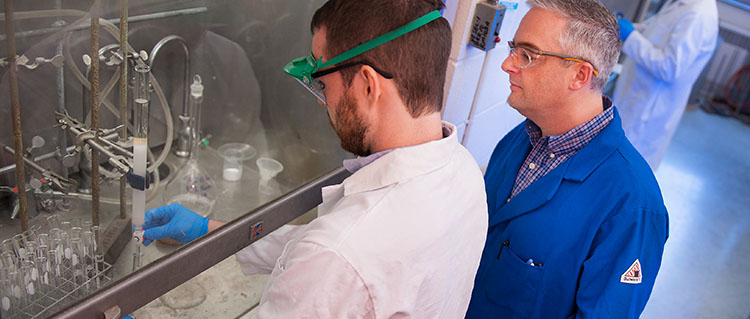 Students can participate in the cutting-edge research and scholarship being conducted through IUP this summer during the annual Undergraduate Summer Opportunity for Applying Research program (U-SOAR, formerly RESS). Be a part of the exciting frontiers that are being explored!
The U-SOAR program will run from June 1 to August 6, 2021.
The U-SOAR program is open to students in all disciplines who are engaged in original inquiry-based research, scholarship, and creative endeavors. All IUP undergraduates are invited to participate. In addition to helping build your resume, this program promises some of the best networking opportunities and professional development events at IUP and includes a summer stipend. Many participants will be eligible to receive funding to offset summer living expenses. You will be amazed by the resources available to you and the quality of research right here at IUP.
Students from all majors in the university with GPAs above 2.0 are welcome to apply. Applications are due April 16, 2021. All admission and funding decisions will be made by April 30, 2021.
Complete the U-SOAR program application by April 16 to participate in the summer 2021 program.
Review the Program Event Information
Reasons Why a Summer Research Program Can Benefit You
Gain experience in your field of study through hands-on research with one-on-one faculty engagement.
Increase your confidence in relating information in and out of your main field of study.
Improve your chances at getting into graduate school or employment in the industrial sector.
Make valuable and long-lasting connections by practicing teamwork, leadership, and interpersonal skills.
Create a well-rounded résumé, and be a part of a publication or report.
Present research material that you generated
U-SOAR Program Information
The Undergraduate Summer Opportunities for Applying Research (U-SOAR) program affords IUP students a competitive edge by providing a summer program to all IUP undergraduate students. U-SOAR is modeled after the National Science Foundation's Research Experience for Undergraduates programs. Nationally, REU programs are seen as one of the most valuable summer experiences students can participate in, yet the acceptance rate for most REU programs is only around 3 percent. Through the U-SOAR program, IUP offers all IUP students the chance to participate in a cutting-edge experience that links knowledge and skills learned in coursework to real-work research and societal problems.
Participation in IUP's 10-week U-SOAR program will give you a competitive advantage whether you are looking to gain experience doing research in your field, add to your rsum for a future job, improve your chances of getting into graduate school, and/or increase your confidence in relating information. Events of the program will focus on research experiences, communication, and professional development and networking. Students who have participated in past years have presented their research both nationally and internationally and have published with their research advisor in journals and books.
Do I need to participate for all 10 weeks?
We understand that students have commitments outside of summer research. The program is traditionally 10 weeks and spans both summer sessions. U-SOAR students have the choice to participate in an combination of the summer sessions: early session, Summer I, or Summer II. If this is the case, mark the appropriate selections in your application, and be sure to broach the subject with your future advisor. To be eligible to present your summer research in the poster session, you must attend no less than half of all events. Arrangements can be made in special circumstances when discussed at the start of the program with the program director.
Finding a Research Mentor
This is your chance to work one-on-one with those faculty members you find have interesting research. Don't know what faculty in your field do? No problemseek out potential research advisors! Check out their faculty websites, and schedule a meeting to discuss possible research projects. You will find that IUP faculty have many areas of interest and are looking for dedicated students to help contribute to their field of study.
Student Funding
U-SOAR offers all participants a summer stipend.
Should I wait to apply until my summer plans are completely known?
Apply before the deadline. If you are awarded funding and choose not to participate, your funding will be offered to another well-deserving student. We do not hold anything against the student for applying to other summer programs, and even encourage students to apply to national programs.
For more information on the U-SOAR program, contact
Shelly Bouchat
210 South Tenth Street
Room 233 Stright Hall
rbouchat@iup.edu