Here are just a few of the many success stories of our students at the American Language Institute.
Abdullah (Saudi Arabia, ALI-P MS Nursing)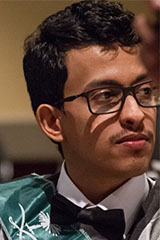 Getting accepted in one of the U.S. universities is a challenge for international students, especially for graduate studies. I applied and got provisional acceptance at IUP. Prior to studying full-time in the MS Nursing program, I completed one semester at the ALI.
Professors in ALI have a good experience in teaching English as a second language. They use unique strategies to deliver information to the students who need to improve their English language. Professors give their students multiple topics to engage technology in their work, and ALI has a computer lab that is accessible and can be used to complete homework easily.
Alexia (Argentina,ALI and Hospitality Management)
Coming to Indiana was an incredible experience. Here I met a lot of people from different countries, and I learnt a lot about their cultures and interests. Furthermore, it is really good to come to college here and have a different academic system. With the ALI Bridge Program I had the opportunity to attend regular classes related to my major and improve my English at the same time. Besides, being here I experienced the American culture, I made friends and celebrated traditional festivities such as Thanksgiving. I am really thankful that I came to Indiana. I had the opportunity to learn the American (and the whole world) culture.
Munif (Saudi Arabia,ALI-P MEd)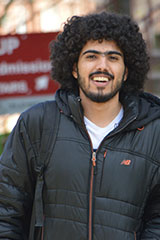 SkillZone is one of the places I really love at IUP. Ilike to visit often because of the encouraging environment it provides any student who comes for help. Personally, SkillZone helped me finish my assignments; I have been coming to SkillZone since I started studying at the American Language Institute (ALI). I found great staff. Ms. Jocelyn who was not only a supervisor, but also a guide and mentor, as well as all the other tutors who never hesitate to encourage and instill confidence in me to practice my English language skills. I can't describe the impact SkillZone has had on improving my English. I encourage every international student to stop by SkillZone and see how helpful it is.
Junio (Brazil, ALI and Computer Science)
You will not find universities in Brazil that offer you the possibility to be in touch with many different people and cultures. During my English course at ALI, I met people from Saudi Arabia, Japan, and Korea. I kept the friendship with many of them after my time at ALI. IUP offers the international students the best of the American culture, while providing a high quality education. I am really enjoying my time here, and I hope that more Brazilians have the same opportunity to study here.