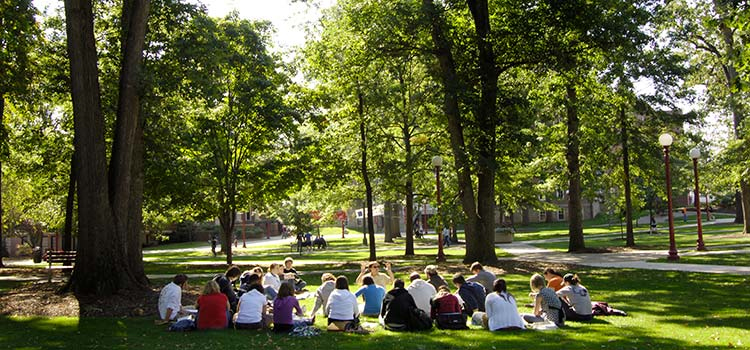 How drops, withdrawals, and other factors affect your financial aid is based on your specific situation and sometimes the date you make the change.
Contact the Student Billing Office if you are doing a total university withdrawal (withdrawing from ALL credits for the term). Contact the Financial Aid Office if you are withdrawing from individual courses. Find out how it will affect your aid before you make these moves.
Below, get the facts on these and other common scenarios to watch out for.
First, File Your FAFSA
Apply for federal grants, loans, and work-study aid with one form.
Submit the FAFSA online
IUP's School Code is 003277.
Pell Grant
Pell Grant amounts are based on the student's enrollment status (full-, half-, or three-quarter-time) on the 15th day of each semester.
For example: You originally registered for 12 credits, but then completed an individual course withdrawal from a three-credit course. Now, on the 15th day of the semester, you are only registered for nine credits. The Pell Grant amount will be based on the nine credits you are taking on the 15th day. (You will still be charged for 12 credits, because you withdrew from this course after the drop-add period.) Your Pell Grant will be reduced and may cause you to owe a balance.
Federal Direct Loans
The maximum Federal Direct Loan amount you may borrow is based, in part, on the number of credits you have completed at the time the loan is awarded. It may or may not cause current aid impact, but could cause future aid impact when dropping/withdrawing from a course.
Year
Dependent Undergraduate
Independent Undergraduate and Dependent Undergraduate with Parent PLUS denial)
First Year
(0-29.9 credits)
$5,500 (no more than $3,500 subsidized)
$9,500 (no more than $3,500 subsidized)
Second Year
(30-59.9 credits)
$6,500 (no more than $4,500 subsidized)
$10,500 (no more than $4,500 subsidized)
Third Year and up
(60 credits or more)
$7,500 (no more than $5,500 subsidized)
$12,500 (no more than $5,500 subsidized)
Repeating Courses You Have Already Passed
If you receive a passing grade (a "D") in a class, it can only be repeated one additional time as part of your enrollment credits for financial aid purposes.
That means, if you're enrolled in a semester and your schedule includes a course that was previously passed two times, that course will not be counted toward enrollment for financial aid purposes for that semester, and your aid may be adjusted, and possibly reduced, accordingly.
If you are repeating a class you've passed twice, you might need to have 12 additional credits to be counted as full-time for financial aid purposes.
Not Attending/Participating in Classes
You must attend/participate in your classes at the beginning of each semester (and throughout the term) to protect your financial aid. This is also true if you have an online course—begin course activities immediately when the semester begins (and continue throughout the term).
IUP professors must verify your attendance in class and your participation in assignments at certain times each semester to comply with US Department of Education regulations for Title IV federal financial aid programs such as:
Pell Grants
Federal Supplemental Educational Opportunity Grants (FSEOG)
Federal Work Study
Federal Direct Loans
Parent PLUS Loans for Undergraduate Students
Federal Graduate PLUS Loans (for graduate students)
Unofficial Withdrawal
Unofficial Withdrawal refers to students who quit attending and/or participating in academically related activities at some point throughout the semester. These result in N grades and/or a 0.00 GPA for the semester.
If you are not in class by the end of the drop-add period (usually in the first week) or stop attending class and turning in assignments later in the semester, you might be given an N grade.
The N grade lists the last date you participated in the class and indicates you are unofficially withdrawing (by ceasing to attend academically related activities). The date you last participated in the class can have a big impact on your aid and may result in a loss of financial aid funds.
Having a 0.00 grade point average can also impact your aid if you have Title IV financial aid.
If you earn a 0.00 GPA that includes any "F," "N," "I," or "*" grades at the end of a term:
You are considered to have unofficially withdrawn and must give the Financial Aid Office documentation from your instructors confirming the last date of academically related activity for the semester.

If you can't document academically related activity beyond 60 percent of the semester, there will be a reduction of your federal financial aid for the semester.
Generally, the recalculation is performed using a date that equals the student attending 50 percent. Students are responsible for any resulting balance owed to the university.