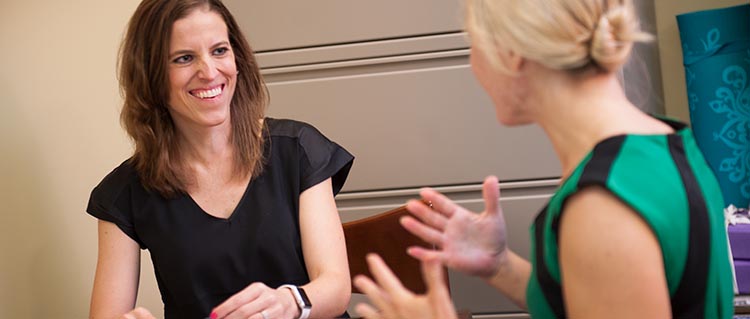 Become a Leader in the Criminal Justice System
For more than 40 years, IUP's master of arts program in Criminology and Criminal Justice has prepared students like you for administrative and research careers in the criminal justice system. You can choose to complete the program on the main campus or online to fit your lifestyle.
In this program, you will:
Prepare for advanced positions in federal, state, and local law enforcement and corrections; federal and county probation and parole; juvenile justice; and more.

Develop a foundation for doctoral study, the next step toward becoming a university professor and researcher.

Advance your expertise in criminology theory, research methodology, and quantitative analysis, the hallmarks of an evidence-based criminal justice practitioner.
What Makes the Criminology and Criminal Justice MA Right for You?
You have the options that tailor to your schedule. Choose between our on-campus and online programs. Take classes full- or part-time.

You'll take all of your coursework from our nationally respected faculty. Our faculty are teachers and scholars committed to giving you a comprehensive preparation for your career and for doctoral study.



IUP has offered a Master of Arts degree in Criminology since 1973. With thousands of graduates, you'll join an extensive network of alumni who work at every level of the criminal justice system.

Full-time students can complete the program in as little as three semesters. Part-time students typically graduate in two years.

If you completed a bachelor's degree in Criminology at IUP, you may be eligible for our 4 + 1 program or early admission into the MA program. With these options, you can earn credits for both programs and complete the MA in one year beyond the BA degree.

Our curriculum combines essential information with inventive electives. You'll learn about theory, research methods, and working with statistics, while also taking electives such as cybercrime. You'll also complete a required synthesis or thesis project to help you learn and practice the skills you'll need to be part of the next generation of leaders in the criminal justice system.

Military experience can be evaluated for possible graduate credits. Our graduate coordinator works with military students to see if experiences and courses from the military can be used for graduate elective credits.

As one of our MA students, you'll have a dedicated faculty advisor to guide you through the program.

MA students can receive graduate assistantships. Interested students can apply for a graduate assistantship during the application process. The assistantship provides a small stipend and funding towards tuition in exchange for work with our faculty.
Earn your Master's Degree Quicker with Our Accelerated Degree Programs
If you are a qualified high school senior, you can apply for this program at the same time you apply for admission to IUP. If you maintain high academic standards, you can be admitted early into the master's degree program.
Current undergraduate Criminology students can apply for early admission to our MA program. You must have a 3.25 GPA or higher and have earned at least 15 credits in your major. You can apply during the semester in which you will earn your 19th credit (typically the spring semester of the junior year).
On-campus Criminology and Criminal Justice MA Program Highlights
Earn your degree at IUP's main campus and complete your degree in three semesters when you take classes full time. On-campus MA students are eligible to earn a Preparing Future Faculty (PFF) certificate. Graduates with this certificate are better prepared to teach at community colleges or as adjunct faculty at colleges and universities.
Online Criminology and Criminal Justice MA Program Highlights
Earn your degree online while maintaining your current career. Full-time students finish the degree in one year by taking two classes every 7.5 weeks during the fall and spring semesters (for a total of eight classes) and two summer classes. Part-time students typically take only one class every 7.5 weeks and finish in two years. Our nationally ranked, online program allows you to learn from our experienced faculty and advance your career from home.
Our online program has been recognized for its excellence.