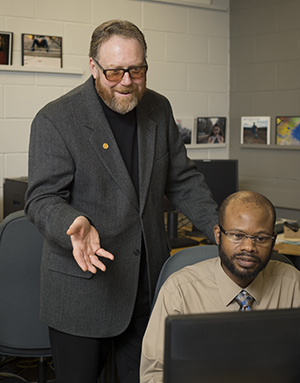 Education
BS, Indiana University of Pennsylvania, Communications Media
MS, Pennsylvania State University, Curriculum and Instruction
PhD, Pennsylvania State University, Instructional Systems
Background
Professor Jim Lenze came to IUP in 2000. He co-developed the proposal for the PhD in Media and Communications Studies (originally named Communications Media and Instructional Technology) with Mark Piwinsky and served with him as one of the initial co-coordinators of the program. He also served as the dean's associate for the School of Graduate Studies and Research at IUP. He is currently the internship coordinator for the Communications Media program.
Over his career, he has assisted in the creation of associate's, bachelor's, master's, and doctoral degrees, several with extensive online components. He is interested in media production, screenplay writing, and aesthetics. His professional philosophy is that all effective communication is rooted in storytelling.
Learn more about the Communications Media internship program.