The forty-third annual Business Day will be held on Tuesday, October 3, 2023, at IUP's Kovalchick Convention and Athletic Complex. Our Business Day is the premier annual professional development and networking event for Eberly College.
This year we are excited to be adding an IUP Career Fair to the afternoon portion of the day. Our students certainly look forward to this event and appreciate your participation.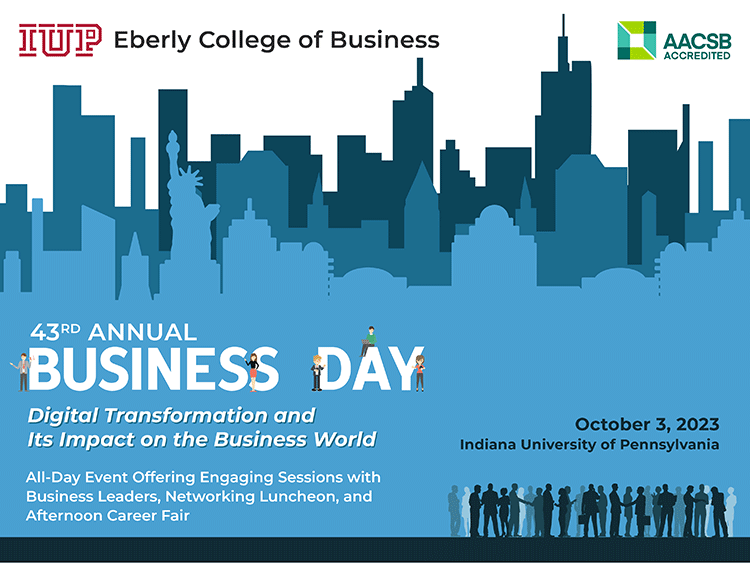 RSVP for BUSINESS DAY
The IUP Career and Professional Development Center will host its Career Fair from 1:30 to 4:00 p.m. in the Kovalchick Convention and Athletic Complex Arena. The Business Career Fair will provide organizations with the opportunity to connect with students, offering informational interviews, networking, and opportunities for full-time and part-time entry-level, internship, and co-op positions to meet in one central location with current students and alumni.
Employers will be able to speak with candidates, distribute recruitment literature, and conduct brief interviews. Please note this event will also include students from our Hotel, Restaurant, Tourism, and Event Planning program which is now part of the Department of Management.
Registration Fees 
For-profit Organizations: $400
Not-for-profit/Government Organizations: $250
REGISTER FOR THE IUP BUSINESS CAREER FAIR 
SPONSOR A CAREER FAIR TABLE 
For additional information, please email us at eberly-assistant-dean@iup.edu.