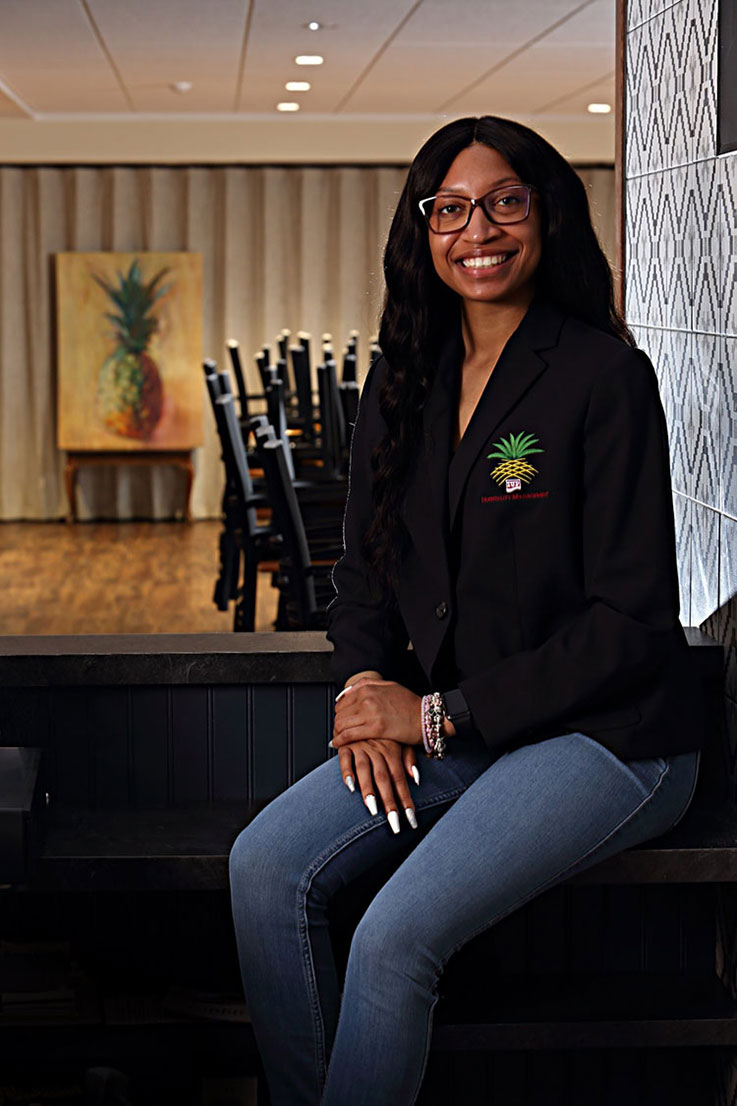 Major – Hospitality Management
Featured Activity- Secretary of Eta Sigma Delta
Hometown – Pittsburgh, PA
I was born and raised in Pittsburgh, Pennsylvania. I chose IUP because I wanted to be close to home, but still some distance away. The campus also made me choose to attend this university because it is beautiful. During my freshman year, I attended CCAC and struggled there and had a hard time choosing a major; I knew I needed to be at a university with more people. My sister who graduated from IUP in 2019, encouraged me to investigate the Hospitality Management program. My goal for my major and future career was to help people. After researching what Hospitality was and reading information about the program, I knew I wanted to attend this school and this major.
My experience was a little rocky when I transferred here. Being a new student in my sophomore year can be tough when you do not know anyone and everyone around you has their group of friends from freshman year. I joined NAACP and met my group of friends that I still communicate and hang out with. My junior year, I joined clubs in the hospitality department, which helped me gain friends in my major. This helped me a lot because I was around these people every day and we dealt with most of the same problems; it is nice having a group to support and encourage you during college. My senior year was exciting and fun. I got even closer to some friends in my major, joined more clubs, and even held executive board positions.
The hospitality faculty have been helpful throughout my three years at IUP. They truly have an interest in the hospitality field and push and encourage each student to better and challenge themselves. Having only four faculty members in this program can be difficult at times, but it allows us to know each of them and build a connection with them. If it were not for the faculty and the many conversations, I have had with them, I would not be in the position I am in now for a successful future.
My overall experience at IUP has been amazing. I believe I chose the right school and major for me and I cannot wait to see where my bachelor's degree and possibly my master's degree will take me in the future. I am grateful for the friends that I will have forever and a big thank you to the faculty members who have helped me thus far.