Are you interested in studying art or music at IUP? Schedule an audition or portfolio review session and become a Crimson Hawk!
Who is Required to Complete an Audition or Portfolio?
Students who are admitted to the following majors are required to complete this additional step to complete their admission into the major:
Audition
Music
Music Education
Music Performance
Musical Theatre
Portfolio
Art Studio
Art Education
Graphic Design
Please note: admittance to the above-mentioned majors is provisional until a successful audition or portfolio review session has been completed.
At this time, theatre majors may start the program at IUP without completing the audition/portfolio review, but may opt to do so in order to compete for the Freshman Talent Scholarships offered by the department. The Musical Theatre Track involves more specialized skills for success, so an audition is required.
What Should You Prepare?
Requirements can be found at these websites: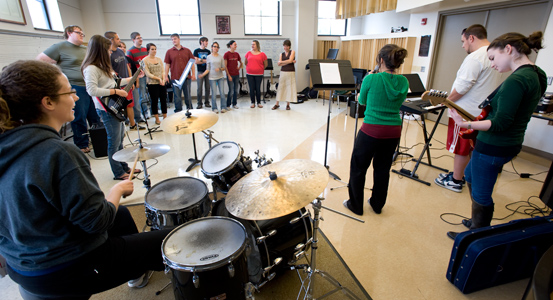 Scheduling Your Audition/Portfolio Review
Auditions/portfolio reviews can be completed anytime.
However, if you are already planning to visit campus through the Admissions Office, we encourage you to bundle your audition/portfolio review with your visit to make the most out of your trip.
We will be hosting large audition/portfolio review events on these dates:
Contact Information
To schedule an audition or portfolio review, please contact:
Dawnette Shellhammer
724-357-2397

Make audition/portfolio arrangements first with Dawnette.
Then, register for an admissions event if you plan to participate in both during your visit.