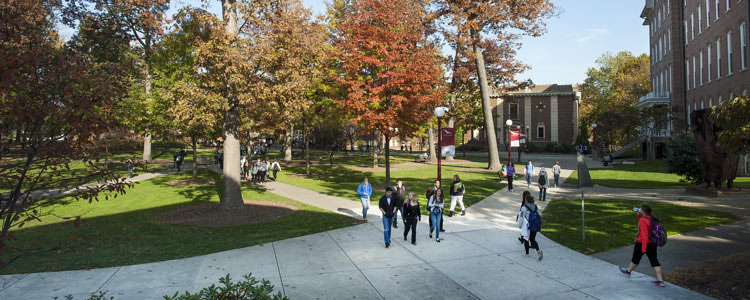 Success, Your Way
Ask any of our graduates and they'll tell you, our campus is beautiful. You need to see it to believe it, and we have several different choices for you to see for yourself as you explore IUP as the next step in your journey. Check out the in-person and virtual visitation options below, but whatever you do, take a few moments to experience it for yourself.

For Anyone


Open House (In-person)

Select Saturdays 

Get a complete look at IUP, including campus and residence hall tours, student life and academic fairs, and the chance to learn more about the major you're interested in.
For Anyone 


In-Person Weekday Visits (In-person)

Most Weekdays

Learn about the admissions process and get a 90-minute, student-led campus tour. Make arrangements ahead to meet with the academic department of your choice.

For Rising Seniors


Decision Days (In-person)

Apply to IUP before you attend this event and get your decision before you leave campus this day! Fall 2023 applications only. 

For Admitted Students


Experience IUP (In-person)

Learn about the many ways IUP provides opportunities and supports student success. Experience IUP includes sessions covering a variety of college topics—choose the ones that interest you the most.
For Admitted Students interested in Fine Arts Majors (Art, Music, Musical Theatre)


Audition/Portfolio Review

As a student who has been admitted to certain Fine Arts majors, you will audition (Music and Musical Theatre majors) or submit your art portfolio (Art majors).  Click below to learn more.
For Transfer Students


Total Transfer Day (In-person)

Get personalized, one-on-one guidance that can take you through the transfer application process in one day!
For Anyone


Virtual Weekday Visit and Virtual Tour LIVE (Virtual)

Select Wednesday Evenings

Consists of a question and answer session with admissions representatives and current IUP students followed by a virtual campus tour presented live by current IUP students. The total event (Q&A and tour) will last approximately one hour.
For Anyone


Virtual Tour (Virtual)

Anytime, Anywhere

Hoping for a sneak peek? Tour campus through videos and photographs, with stops at a residential hall, dining hall, academic building, library, the Oak Grove, and more. If you can't get to campus, it's a great overview—with students leading the tour. If you're on campus but not able to attend a scheduled tour, it can be your guide.
Other Ways to Explore IUP
College Fairs Near You
Talk with an IUP representative at one of the many college fairs we attend in cities across Pennsylvania and other states. View the schedule to see when and where the fairs are occurring.
Individual Appointments (either in-person or virtual)
We highly recommend our group events, but if your schedule won't allow it, please call or email us at admissions-inquiry@iup.edu to schedule an appointment (does not include campus tour).
We welcome high school counselors interested in bringing a group of students to campus. We'll do our very best to accommodate your students' interests and provide them with a great experience! Please contact us in advance to make arrangements.
Keep an Eye on the Weather, Wear Comfortable Shoes
Remember to check the weather on your visit day and have an umbrella handy if you'll need one. Check our Admissions Visitors Inclement Weather Policy for questions about program cancelations. If you're going to be taking a campus tour, we recommend you dress for the weather and wear comfortable shoes.
Printed Publications
Your college journey at IUP holds so many possibilities. In these publications, find out how IUP will challenge you to be your very best through a wide range of academic experiences, what life at IUP is like, and how to plan to make your education affordable.
Everything You Need to Know about IUP in 5 Minutes
We want to see you on campus, no doubt. And we've got some awesome visit options to fit your busy schedule; but, if you're ready to learn more now, this video is a good place to start. 
Take a Suite Tour
Our suites are awesome, and they're a great home away from home. Check out our three most popular suite styles with Crimson Guides Jacob and Kayla.
Tour IUP's Cook Honors College
Take a closer look at the Cook Honors College. Follow Kevin and Brianna through the hallowed halls of Whitmyre, the home of the honors college. Learn what it's like to be an honors college student and see the cool spaces you'll learn in.
Virtual Tour En Espanol
¡Disfruta de este recorrido por el campus de IUP! Te mostramos un poco de todo, desde la vivienda estudiantil a los edificios académicos, la biblioteca, el Oak Grove (corazón del campus), y mucho más. ¡ Ven a ver qué hace a IUP tan especial!
Visiting Our Regional Campuses
IUP Culinary Academy
(Punxsutawney, Pa.)
There are several options for visiting the Culinary Academy, including Baking Buffet Tours, Open Houses, and more.
IUP at Northpointe
(Freeport, Pa.)
Attend a Personal Information Session to learn more about this regional campus located just outside Pittsburgh, Pa.
IUP Punxsutawney
(Punxsutawney, Pa.)
Attend a Personal Information Session to learn more about this regional campus located in Punxsutawney, Pa.