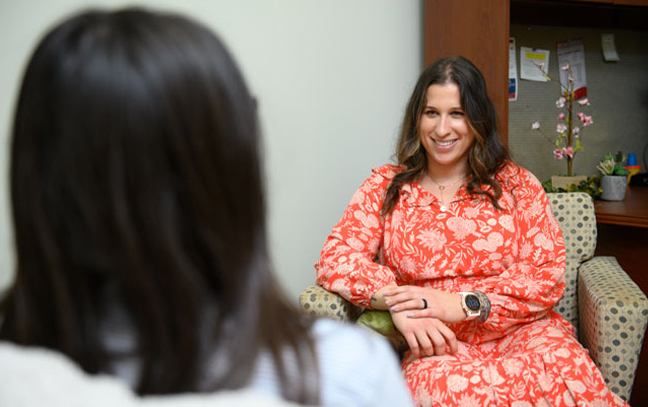 Get Your PsyD to Become a Licensed Clinical Psychologist
Are you ready to aim for the highest level of learning and leadership in clinical psychology? The Clinical Psychology Doctoral Program is an intensive, five-year program that will provide you with extensive knowledge and real-world experience in clinical psychology. You'll work hard and gain the academic knowledge you'll need to move forward toward earning your clinical psychologist license.

No master's degree or previous graduate work is required for you to apply.
Why Enroll in IUP's Clinical Psychology PsyD?
With a doctorate in clinical psychology from IUP, you'll be well equipped to step into a variety of professional roles where you can make a profound impact in others' lives. Our program follows the local clinical scientist model of training, which serves as a bridge between the science of psychology and the realities of working in a clinical setting.
Earning a doctoral degree means you're committed to your profession and are ready for your academic journey. But you won't be alone. With an average of 15 students per year admitted to the Clinical Psychology PsyD program, you'll get all the support you need from faculty, staff, and your own small cohort.
No Master's Degree Required
You don't need a master's degree to apply for admission because you'll earn one along the way. Our doctorate in clinical psychology is typically completed in five years:
Four calendar years of full-time enrollment
An additional year of a full-time internship
This is a total of at least 99 semester hours of graduate-level course credit.
What You'll Learn
In addition to a practitioner focus, the Clinical Psychology PsyD gives you broad exposure to a range of skills that will help you to react and adapt to professional psychology's changing roles and responsibilities.
You'll receive a solid background in the scientific knowledge of psychology, plus extensive supervision in the development of skills essential for all clinicians, including:
Psychotherapy
Psychological assessment
Interpersonal relations
Program evaluation
Community outreach
To add real-world meaning to what you're learning, you'll also participate in a range of clinical training labs. You will have supervised experiences in:
Psychological assessment
Psychotherapy
IUP's clinical psychology doctoral program is designed to meet the academic requirements of licensure and is accredited by the Commission on Accreditation of the American Psychological Association (APA).
The licensure exam and post-doctoral supervised experience are not part of this program.
Imagine Your Future
In the Clinical Psychology PsyD program, you'll gain skills that will prepare you to work successfully in the field. You'll get experiences in
Assessing clients
Treating clients
Conducting research
Your clinical experience will typically be as part of a health care team in collaboration with other professionals.
When you graduate with a doctorate in clinical psychology from IUP, you will have completed the academic requirements toward licensure in Pennsylvania. You will not be licensed or even license-eligible when you graduate—the licensure exam and the post-doctoral supervised experience are not part of this program.
We're proud to note that recent Student Admissions, Outcomes, and Other Data shows IUP's Clinical Psychology PsyD program graduates perform exceptionally well on their licensure exams, indicating the excellent academic and practical background they obtained at IUP.
Program Curriculum
IUP's Clinical Psychology PsyD curriculum builds your knowledge class by class while emphasizing hands-on experiences. It's important to keep in mind that this intensive doctoral degree program goes year-round, for a minimum of five years.
In your first year, you'll study general topics such as
Assessment
Intervention
Psychopathology and personality theory
Research methods
Your exposure to clients begins in the first year, too. You'll provide psychotherapy services to undergraduate volunteers. You'll also start a series of classes on ethics during your first summer.
Your second-year coursework includes research and diversity issues, to name a few, and your intervention training continues. You'll begin an internal practicum in our training clinics at the Center for Applied Psychology (CAP). You'll sit for the Comprehensive Clinical Examination at the end of your second year.
In the third year, you'll typically start an external practicum at a local agency, hospital, or clinic. Your coursework continues, including electives and nonclinical core courses. You'll take the Clinical Proficiency Examination at the end of your third year.
Between your third and fourth years, most students focus on defending their dissertation proposals. During your fourth year—after you meet the requirements, including having defended your dissertation proposal—you will be eligible to apply for internship. And you'll continue with coursework and your practicum, and conduct dissertation research.
Your fifth year is typically your predoctoral internship year. This is a full-time, paid clinical training experience.
Full Academic Catalog Listing
The course catalog is the official reference for all our degree and course offerings. Check it out for a full listing of the classes available and requirements for this degree.
Admission Procedures
The Clinical Psychology PsyD is a highly selective program that seeks students with great promise to become excellent clinicians and leaders who will advance the field of clinical psychology.
That means that, while there are minimum requirements to apply, our doctoral psychology students typically have grades and scores well above those minimums.
You must also have demonstrated prior research experience, such as an honor's project, research practicum, or serving as a research assistant.
In addition, we require that applicants have some clinical exposure to the field through an internship, volunteer work, or, in some cases, a paid position.
The following criteria will be considered in evaluating your application:
Overall minimum 3.0 GPA and strong grades in psychology courses.
Training in research methodology.
Prior clinical experience in practicum, employment, or volunteer work.
A personal statement of goals.
Three letters of recommendation.
Interviews with faculty (in-person or remote) for applicants invited to interview.
You'll also need a minimum of 18 credits in psychology if you have an undergraduate degree in something other than psychology. Those courses must include abnormal psychology, personality, and research/statistics.
IUP admissions, outcomes, and other data as reported between 2010/11 and 2019/20 academic years is fully disclosed here.
Predoctoral Internship Helps Shape Your Professional Identity
Your predoctoral clinical psychology internship is an important training experience for developing your professional identity, as well as for refining your clinical skills. The internship provides a methodical, supervised, professional training program in an applied setting.
This required internship is a paid, full-time, 12-month clinical experience. After you receive approval from the training director, you can apply for an internship to APA-accredited sites through the Association of Psychology Postdoctoral and Internship Centers (APPIC).
About the Center for Applied Psychology (CAP)
The Center for Applied Psychology provides psychological services to residents of Indiana County and neighboring communities. These services include:
Psychological interventions for various difficulties.
Psychological assessments of both adults and children.
As a clinical psychology doctoral student, you will participate in an internal practicum at CAP, providing psychotherapy and psychological assessment under the supervision of licensed psychologists.
Accreditation
The program is accredited as a Doctoral Program in Clinical Psychology by the Commission on Accreditation of the American Psychological Association. Questions regarding accreditation status should be directed to:
Office of Program Consultation and Accreditation
American Psychological Association
750 1st Street, NE, Washington, D.C. 20002
Phone: 202-336-5979
Email: apaaccred@apa.org
The program is designed to meet the academic requirements of licensure and to provide the student with the background to immediately assume responsibilities in appropriate professional settings. Graduates of the program have performed well on licensure exams as evidenced by current licensure data.
The PsyD program follows a practitioner or applied model of training of clinical psychologists. Emphasis is placed on professional applications of psychology to a wide variety of human problems. Students receive extensive supervision in the development of skills in interpersonal relations, psychological assessment, psychotherapy, community outreach, and program evaluation and a solid grounding in the scientific knowledge base of psychology.
To ask specific questions, call 724-357-4519 or 724-357-4527 or email Professor Laura Knight, program director, at laknight@iup.edu.
For more information of a general nature about the program and graduate study at IUP, see the IUP Graduate Catalog.