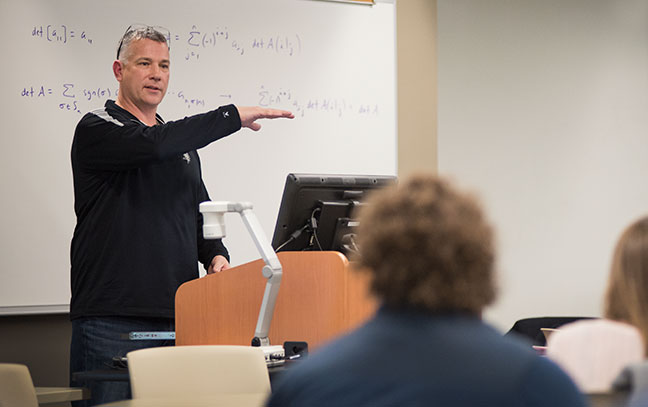 Math Is the Building Blocks of the World
Think about it: Nothing in the world happens without math. Math is so much more than numbers. The study of mathematics is about understanding logical ways of thinking with plenty of room for creativity.
In IUP's BS in Mathematics program, you'll gain specialized skills. You will master critical thinking and problem solving that you can apply to just about any situation that comes your way.  
Why Major in Mathematics at IUP?
At IUP, your math classes are held in small classrooms. This welcoming environment fosters teamwork and friendship. It gives you opportunities for social support, including the Math Club where you can make friends in your major.
Your professors are approachable and friendly and always available to answer your questions. The mathematics program focuses on your goals and will guide you in both your professional and personal growth. A Mathematics BS will prepare you to take on the job market. The mathematics faculty is rooting for you and willing to help you along the way.
What You'll Learn
In the Mathematics BS program, you'll choose from one of three specializations: data science, applied mathematics, or pure mathematics.
Not sure which is right for you? Here are some real-world applications to help you figure that out:
Data Science
Detecting patterns in noisy data (Machine Learning)
Visualizing high-dimensional datasets (Data Science Fundamentals)
Applied Mathematics
Constructing models to mirror real-world processes (Modeling and Simulation)
Developing an optimal strategy from many options, such as scheduling airport runway usage to safely handle the maximum amount of traffic (Operations Research)
Modeling vibrations, such as a plucked guitar string (Partial Differential Equations—PDE)
Pure Mathematics
Exploring connections among entities, such as in a social network (Graph Theory)
Factorization of large numbers, such as in encryption (Number Theory)
Imagine Your Future
When you understand and can use math, you become a hot commodity on the job market. The logical thinking, problem-solving, and decision-making skills developed as a mathematics major are extremely valuable to employers.
Your career opportunities are likely to increase over the next few years—especially as businesses become increasingly reliant on big data and quantitative analysis. A degree in mathematics can make you an attractive candidate for a job in any industry that requires these skills.
Career Paths for Math Majors
Every major app, every major website, and every major company uses data science. Technologies like speech recognition (dictation on phone), computer vision (like autonomous driving), recommender systems (Netflix recommending shows), and antivirus software all rely on data science.
Students in this specialization can pursue roles including data scientist, data analyst, data engineer, and machine learning engineer.
A number of recent mathematics graduates are building careers in industries such as finance and health care and in positions including operations research analyst and mathematician. Others are pursuing graduate degrees.
The four mathematical science jobs with the highest projected growth—and that you can be trained for as a math major—are:
Statistician
Mathematician
Operations Research Analyst
Actuary
Classes and Requirements
Careers in mathematics are increasingly interrelated with computer science and statistics. In IUP's BS in Mathematics program, you're encouraged to develop a well-rounded education with knowledge across a variety of areas.
Your First Year at IUP
Your journey as a mathematics major begins with a First-Year Seminar that has three goals:
Ease your transition into college life.
Give you tips for how to be successful in your math courses.
Help you meet and make friends with other math majors.
In your first year, you and your peers in the program will take the same math foundation courses. No matter which specialization you decide to pursue as you move through the program, your first year studies will focus on skills like:
Calculating areas and volumes
Computing rates of change
Manipulating vectors in space
Your Second Year
Your main goal will be to learn to craft coherent mathematical arguments through a two-course proof-based sequence. You will also start thinking about picking specialization—specific courses so you can pursue what interests you most.
Your Final Two Years
Your focus will be on seminars geared to give you the practical skills employers are looking for. If you're interested in going to graduate school, your professors and advisors can help you with this too.
Specializations in the Mathematics Program
As mentioned above, you will pick a math specialization for your last two years based on what interests you most. You'll be exposed to plenty of options before you commit to a specialization. You can always switch specializations if your interests change.
Data Science Specialization
Students in the data science specialization develop skills in designing, analyzing, and utilizing complex databases. You'll use these databases to provide real-world, real-time solutions that incorporate predictive analytics and forecasting to improve decision making. This specialization requires a computer science minor.
Course topics specific to the data science specialization include:
Data Science Fundamentals
Data Science Theory and Application
Applied Mathematics Specialization
Most, but not all, students start in the applied mathematics specialization. You and your advisor will work together to choose another field of study to use the mathematics skills you've learned. Past students have studied computer science, economics, business, communications media, and more.
Course topics specific to the applied mathematics specialization include:
Operations Research
Modeling and Simulation
Numerical Methods
Pure Mathematics Specialization
The pure mathematics specialization is the most theoretical option. You will gain a broad foundational knowledge of the depth of classical and modern mathematics. Although mathematics opens the doors to many different types of careers, the pure mathematics option is geared to preparing you for future graduate study in mathematics.
Courses specific to pure mathematics specialization include:
Advanced Calculus
Complex Analysis
Topology
Number Theory
Full Academic Catalog Listing
The course catalog is the official reference for all our degree and course offerings. Check it out for a full listing of the classes available and requirements for this degree.
You're Joining a Community
At IUP, mathematics is not just a program—you're joining a community of students and faculty. At the beginning of your first semester, you and all of your classmates and multiple professors will meet in your First-Year Seminar, a special course for incoming students.
With about 12 students per faculty member in the department, you'll get one-on-one attention and the opportunity to form personal relationships.
Join the Math Club! This student organization meets biweekly and is supported by the Mathematical and Computer Sciences Department.
Be part of a strong department tradition and join in the camaraderie at COMAP's Mathematical Contest in Modeling. This international math modeling event brings together diverse students from across the country and around the world. Most years, more than 95 percent of participants are from outside of the US. It's a great chance for you to work on a team and meet like-minded peers.
Accelerated Master's—4+1 Program
You can complete both your BS in Mathematics in four years and an MS in Applied Mathematics in one additional year—getting you out into the workforce faster and saving you money. You must apply for this program before you start at IUP.
Learn more about the university's 4+1 programs.
If you are a current IUP student interested in applying for early admission into our master's program, contact the coordinator of the MS in Applied Mathematics program.
Meet Your Professors
Your professors are specialists in statistics, financial mathematics, and other areas of applied mathematics. They bring tons of real-world experience to your classes.
Scholarships for Math Majors
You might also apply for several of our departmental scholarships. These scholarships are specifically aimed at students majoring in mathematics or mathematics education.
Mathematics Minor
The minor consists of a minimum of 18 credits in mathematics including at least 6 credits from 300-level or higher courses. The minor prepares students for advanced study in areas such as economics, computer science, physics, and other natural sciences. Anyone required to take a year of calculus should consider the Mathematics minor.
A cumulative GPA of at least 2.0 in MATH courses is required for the Mathematics or Applied Statistics minor. No more than 6 credits of overlap can be used for the Mathematics and Applied Statistics minors. Transfer students must take at least three courses from IUP with at least two mathematics courses in order to complete a minor.
Full Academic Catalog Listing
The course catalog is the official reference for all our degree and course offerings. Check it out for a full listing of the classes available and requirements for this degree.