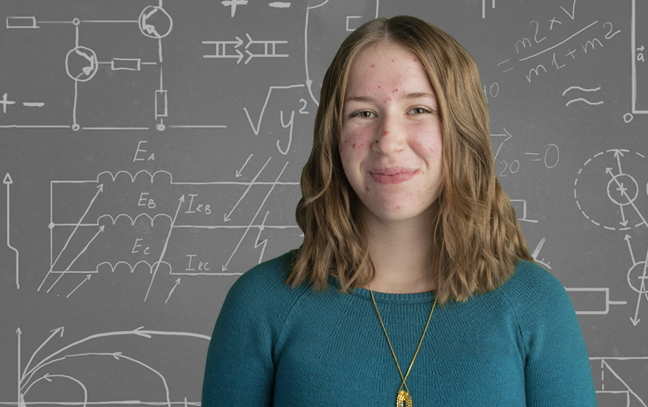 Open Up a World of Opportunity as a Physics Major
If you have a talent for problem-solving and a drive to be at the leading edge of science, consider getting your BS in Physics at IUP to open a world of opportunity—and a path to making that world a better place.
Within the physics program, you might also choose:
Applied Physics specialization
Dual Physics/Engineering degree, offered in association with the University of Pittsburgh
Nanotechnology Manufacturing specialization
Why Major in Physics at IUP?
From televisions and computers all the way to nuclear power, so many changes in the world have depended on teams of physicists trying to find solutions to big problems through research and experimentation.
Besides new products, advances in physics help us to understand other sciences, increasing human knowledge of the world. You could be among those difference makers.
With a BS in Physics you'll gain a strong technical background and have a range of possibilities after graduation.
Become a biophysicist, chemical physicist, or geophysicist.
Dig into interdisciplinary research and join the world of academia.
Go onto a career in medicine or law.
Lead the way in a private industry or government laboratory.
Share the joy of science as a teacher, sparking knowledge for the next generation of technologists.
Work in solid-state electronics or electro-optics.
The subject of physics has played a critical role in the advancement of many technologies, including television, computers, domestic conveniences, and nuclear power.
Theoretical breakthroughs often illuminate our fundamental grasp of other sciences and open doors for a wide array of new research and product development.
Mastering physics may also lead to a fulfilling teaching position.
Imagine Your Future
Physicists do experiments, investigate scientific problems and try to find solutions to scientific questions in our modern world. If you're excited to learn more about the universe and use your creativity to contribute to this type of work, picture a future as a physics professional.
With IUP's BS in Physics degree, there are no limits to the kind of opportunities in front of you. Alumni are highly successful at finding jobs after graduation, with high salaries for those in technical fields.
Industries Looking for You
Aerospace
Aircraft manufacturing
Astronomy
Automobile manufacturing
Bioengineering
Bioinformatics
Chemical manufacturing
Colleges and universities
Computer hardware/software manufacturing
Department of Energy
Electrical equipment manufacturing
Electronics
Electro-optics
Film industry advisor
Finance
Gaming
Geography firms
Laboratory manager
Laser engineering
Medical schools
Military
Museums
Nanotechnology
Optical engineering
Petroleum
Power plants
Research firms
Secondary schools
Smithsonian Institution
Steel/metals industry
Telephone/cable
Waste management firms
Classes and Requirements
Applied Physics
The BS in Applied Physics specialization consists of a core of basic courses in mathematics, physical science, and computer technology.
Pursue one of these four areas within the BS of Applied Physics program:
Biology
Chemistry
Computer Science
Geology
Nanotechnology Manufacturing
In nanomanufacturing, scientists work at the atomic level. Nanotechnology, or how molecule-sized machines and processes affect our everyday lives both now and in the future will change our world— from the medical field to energy production—in ways we can't yet imagine. Opportunities for these physics professionals are constantly growing.
Teacher Certification Requirements
All students seeking teacher certification must meet the requirements of the Three-Step Process for Teacher Education.
Full Academic Catalog Listing
The course catalog is the official reference for all our degree and course offerings. Check it out for a full listing of the classes available and requirements for this degree.
Physics Minor
To minor in physics, a student must successfully complete 18-20 credits in physics consisting of at least 6 credits at the 300 level or higher.
Full Academic Catalog Listing
The course catalog is the official reference for all our degree and course offerings. Check it out for a full listing of the classes available and requirements for this minor.
Secondary Science Education Certificate
Physics can be an exciting subject. Discussions about amusement park rides, collisions, and electric circuits can interest your students. Many of our physics education students land positions even before they graduate.
Studying physics education involves earning a certificate in conjunction with the bachelor of science in physics degree. Compared with the traditional concentration, the Physics Education program replaces advanced math and physics classes with education courses. If you complete all the requirements, you'll graduate with a BS in physics and be certified to teach grades 7–12 in Pennsylvania. Learn about IUP's Three-Step Process for all students pursuing teaching degrees.
Your BS in physics will also qualify you to work for a broad range of employers in various industries, including material science, engineering-related fields, and environmental areas. Or, you could pursue graduate studies in a related field.