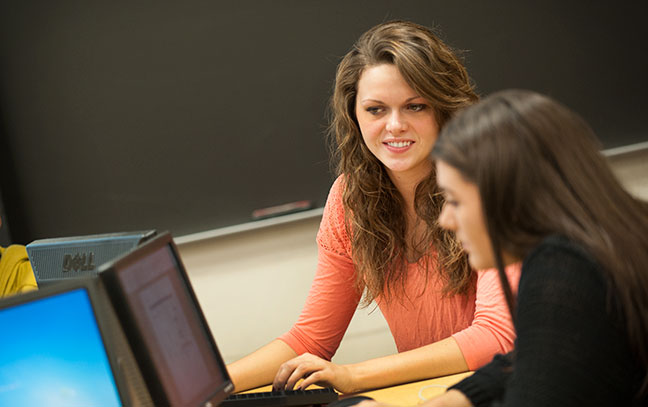 Gain Computer Knowledge You Can Use in Any Field
Computer knowledge is essential in all scientific fields of study—and in other fields as well.
Through its core courses, the Computer Science Minor provides you with a foundation in computer science that can enhance or supplement any major and build a strong knowledge base for higher education in general.
This minor can also increase job opportunities, especially in industry or government, and prepare you to make effective use of computers in your career.
Imagine Your Future
Technology advances rapidly, and companies want employees who can solve problems with their knowledge of computer systems and with their programming skills.
Having a minor in computer science will show that you are strong in programming, logical thinking, and problem solving—qualities that are in high demand across businesses and tech companies. You will also have a solid understanding of current technology and the ability to learn new skills and master future software advancements.
A computer science minor can be helpful for opportunities in higher education as well. Research and graduate coursework across many disciplines frequently involve advanced use of technology, spanning software development, programming, and data analysis. With your background, you'll be ready to go.
In addition to giving you a valuable computer background for any career, this minor can prepare you for positions in the field, such as computer systems analyst, software developer, computer programmer, and web developer.
Software Developers, Quality Assurance Analysts, and Testers
Classes and Requirements
After gaining important basic skills in COSC 110 Problem Solving and Structured Programming and COSC 210 Object-Oriented and GUI Programming, students have the flexibility to select classes suited to their specific goals.
Full Academic Catalog Listing
The course catalog is the official reference for all our degree and course offerings. Check it out for a full listing of the classes available and requirements for this degree.