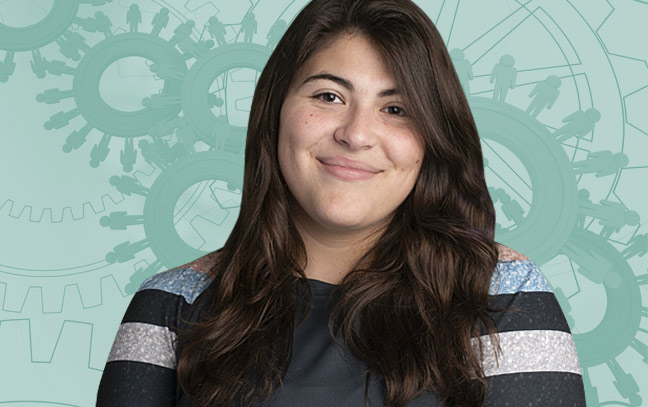 Become an Effective and Strategic Human Resources and Employment Relations Leader
If you are passionate about helping people and organizations achieve their potential, IUP's Master of Arts in Human Resources and Employment Relations degree is a natural fit for you.
This is a multidisciplinary program that integrates theory and practical application. With industry-current knowledge, skills, and competence in leadership, you'll be ready to manage the complexities of an evolving workforce, address organizational challenges, and meet strategic goals.
Gain a Unique Industry Perspective
Our Master's in Human Resources and Employment Relations Program curriculum aligns with standards established by the Society for Human Resource Management (SHRM). As a student, you'll learn from knowledgeable faculty who bring their insight and experience into the classroom.
This program can be completed in as little as one year or as many as five years, with a hybrid delivery model that allows you to attend class through seamless in-person or video-conferencing formats. Graduate assistantships are available, and they include tuition assistance and a bi-weekly stipend.
Grow as a Problem Solver and Decision Maker
Human resource and employment relations professionals must be critical thinkers with the agility to address ever-evolving organizational and labor challenges. The Human Resource and Employment Relations Master's program at IUP prepares you to excel in the profession with mastery in:
All aspects of human resources, including compensation and benefits, organizational behavior, staffing and training, recruitment, and employee advocacy
Application of human resource practices in public, private, and international organizational settings
Arbitration, mediation, conflict resolution, and alternative disputes
Conducting research in human resource labor relations
Creating a framework and environment to foster positive working relationships across groups
Creating and managing organizational training materials and processes
Employee rights under the law
Training in the ethical application of human resource management
Training for productive negotiations and collective bargaining in unionized and non-unionized settings
Imagine Your Future
The Human Resource and Employment Relations Master's program at IUP provides the skills and knowledge to develop and lead people with confidence in positions at:
Any organization that hires employees or has a human resources department
Federal, state, and local government agencies
Labor unions
National Labor Relations Board
Private-sector companies
Talent acquisition agencies or departments
Job titles can include:
Arbitrator or mediator
Compensation and benefits manager
Human resource coordinator
Human resource generalist
Human resource manager
Labor relations specialist/labor union representative
An In-Demand Degree with Growing Career Prospects
With a specialized master's degree in Human Resources and Employment Relations from IUP, you'll be ready to enter a growing job market. According to the U.S. Bureau of Labor Statistics, employment of human resources managers is projected to increase by seven percent between 2021 and 2031. The median annual wage for human resource managers was $126,230 in May 2021, and approximately 16,300 position openings are projected each year through 2031.
Classes and Requirements
The HRER Master's program offers the flexibility to create a program of study that aligns with your unique career goals and objectives. In addition to traditional core coursework, you can select from a wide range of electives to learn industry-current techniques and tools for effective leadership.
You'll broaden your understanding of management in the field and expand your skills in preventing and resolving workplace disputes, employment law, and managing employee performance within the scope of strategic organizational goals. You'll also gain practical insight through hands-on experience in the classroom, internships, workshops, conferences, and leadership retreats.
Course Descriptions
Whether you're currently working in the field of human resources and employment relations and want to advance your potential or you're ready to make a career change, IUP's HRER Master's degree program offers excellent preparation for professional roles in the areas of human resource management, employment relations, and labor relations.
Admission to our program is open to students in almost any major. The curriculum builds on a foundation of the human resources and employment relations function of any organization and is designed for those who are motivated to become supervisors and leaders in the field.
Internships or Thesis
Completion of a thesis or internship is not required for graduation in the HRER Master's degree program. However, students may choose to complete an optional internship or thesis, either of which replaces up to six credits of electives.
Full Academic Catalog Listing
The course catalog is the official reference for all our degree and course offerings. Check it out for a full listing of the classes available and requirements for this degree.
Learn Anywhere, Anytime
Acquiring the essential body of knowledge for a career in human resources and employee relations isn't limited to one mode of learning at IUP. You can complete the master's degree program entirely online or as a blend of face-to-face and open online (D2L) platform courses.* Courses with specific class meeting times are scheduled to take place in the evening to accommodate working professionals.
Whether you're learning through Zoom video conferencing or in the classroom, you'll become acquainted with the program faculty and your classmates. Students learning through Zoom are encouraged to participate in department activities, such as the leadership retreat, from their location.
*Several courses are offered only in D2L; the remainder give students delivery modality options and are offered as D2L or face-to-face/Zoom video conferencing, depending on the semester.
Year-Round Course Offerings
Admission into IUP's Master of Arts in Human Resources and Employment Relations program is conducted on a rolling basis throughout the year.
Course offerings are scheduled in cycles to allow students to complete the entire curriculum in one calendar year of full-time study, two calendar years of part-time study, or any other pace that ensures the program is completed within six consecutive years. Continuous enrollment is not required.
Professional Affiliated Organizations
Outside the classroom, students are encouraged to participate in IUP's active student chapter of the Society for Human Resource Management. From student leadership and professional development opportunities to network with fellow students and human resource professionals, you'll have access to a wealth of information and connections to grow your career.
Leadership Retreat
Students in IUP's Human Resources and Employment Relations program have the opportunity to take their education further as part of the annual leadership retreat at the SHRM Leadership Conference at Walt Disney World in Orlando, Florida.
The retreat includes faculty-guided leadership and human resources activities for students and special leadership training by Disney staff. Retreat rates are discounted for students.
Dual HRER/HSAD Master's Program
Our master's degree in human resources and employment relations prepares you for a successful career in the field. Before you graduate, however, you can strengthen your qualifications even further and give yourself a competitive edge in specialized industries with a second master's degree. Your options include health service administration, sports management, business administration, or another graduate program.
In this dual program, a total of 18 credits is applied to both degrees, allowing students to complete 54 credits in as little as 21 months. (Separately, the two programs comprise 72 credits.) At IUP, you can efficiently pursue two master's degrees that serve as the springboard for your unique career goals. For more information, contact the program coordinator.
Cost and Funding Opportunities
An IUP education is well-respected by employers in the tri-state area and beyond. Tuition for our Human Resources and Employment Relations Master's Program is affordable compared to similar programs, making this degree a great value. Students may apply for graduate assistantships and scholarships on a competitive basis to help pay for the cost of education.
Early Admission for IUP Undergraduates
If you're an undergraduate student at IUP and you're considering an advanced degree in human resources, you can benefit by applying for early admission to the MA in Human Resources and Employment Relations program.
This choice is particularly beneficial if your undergraduate major isn't yielding the anticipated outcomes, interests, or opportunities that match your career goals.
To qualify for early admission to this program, students must:
Be in the semester in which they'll earn their 60th credit
Have a 3.0 grade point average
Have earned at least 15 credits in their major