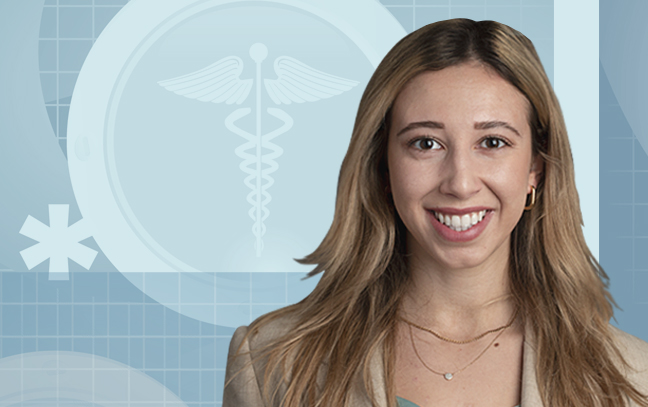 Become a Leader in Health Services and Manage the People Who Care for Other People
If you're looking for a career in health care administration, look to IUP to get the knowledge and decision-making skills you'll need for this fast-paced path. Earn your Master of Science in Health Services Administration at IUP and prepare to become a leader in health care—a field that desperately needs you.
You've seen the news stories and job openings for nurses, doctors, and other specialists. But the health care industry needs more than medical professionals—leaders like you to manage and support the people who tirelessly care for others.
Health care systems are often run by former health workers or managers with little or no formal human resources education or experience. Our unique MS in Health Services Administration degree program focuses on people management, an undervalued area in the healthcare industry—until now. It offers advanced education and training in health policy but is focused on people management and employment law, rather than the business and accounting pieces of health care management.
Why Earn a Master's in Health Services Administration?
Pursuing an advanced degree is a great way to advance your health care career or make a major career change, regardless of your undergraduate education or professional experience. In the MS in Health Services Administration program, you'll gain a deeper understanding of how the health care system operates and how to manage the people within that system effectively.
This degree program is an efficient and economical way to enhance your resumé as a healthcare administrator. It's also a great fit for busy professionals:
Enjoy a self-paced program you can pursue full-time or part-time. Choose evening or online classes, in-person or by videoconferencing.
Get help paying for school with a scholarship or a graduate assistantship, which includes tuition assistance and bi-weekly stipends.
You can graduate in as little as 12 months, saving time and money.
As a highly motivated student, you can also choose to pair your MS in Health Services Administration with a second master's degree.
What You'll Learn
In this curriculum, you'll dive into a unique blend of health policy, human resources, conflict resolution, and other knowledge areas that will prepare you to be an effective manager of the people who provide services in the field of healthcare.
Imagine Your Future
Earning your MS in Health Services Administration proves your commitment to the field of health care and the concepts of people management. While most facilities usually require at least a bachelor's degree for health administrators, future employers often prefer candidates who have completed their master's degrees.
As a master's-prepared clinic coordinator/director or medical and health services manager/administrator, some of the places your future may take you include:
Health insurance companies
Hospitals
Long-term care facilities
Mental health facilities
Pharmaceutical companies
Private practices
Public health and human services agencies
Rehabilitation facilities
Specialty facilities
Medical and Health Services Managers
Job Growth
(much faster than the average for all occupations)
Classes and Requirements
IUP's MS in Health Services Administration degree program consists of 36 credits. It offers a blend of classes and coursework from the Department of Nursing and Allied Health Professions and the Department of Employment Relations and Health Services Administration, with faculty members from both departments.
In this degree program, you'll have the option to complete internships to replace up to six credits of electives. You'll also have the option to complete a master's thesis, something you should strongly consider if you expect to go on to a doctoral program.
In addition to a range of electives, there are five required courses:
Epidemiology in Health Services Administration–Explore concepts of epidemiology, identify data sources, and interpret epidemiological research findings and the application of epidemiology to health services administration.
Ethics and Social Issues in Health Care–Understand the ethical imperatives as they apply to the provision of health services in the twenty-first century.
Health Law–Learn the legal language of health care, including tort law, and the issues and sanctions of state and national health care laws as applied to individuals and organizations.
Health Policy–Examine legislative, regulatory, and political processes in health policy development at the federal, state, and local levels.
Human Resource Management in the Public Sector – Get an in-depth analysis of human resource management with an emphasis on public-sector organizations and a focus on the job functions and issues facing human resource professionals and organizations.
Full Academic Catalog Listing
The course catalog is the official reference for all our degree and course offerings. Check it out for a full listing of the classes available and requirements for this degree.
Learn Anytime, Anywhere
Take control of your future with a Master's in Health Services Administration and take control of your busy school-work-life schedule with a convenient and flexible curriculum.
Classes with set meeting times are in the evening to accommodate working professionals. You may choose to attend in person or online through videoconferencing. If there is no set meeting time, you'll have the opportunity to complete your coursework entirely online, on your own time.
Your Courses Are Offered Year Round
Want even more flexibility while earning your MS in Health Services Administration? This program offers a rolling, year-round admissions schedule, meaning you can start any time and finish just one year of full-time study. Alternatively, continuous enrollment is not required, so you can choose to go to school part-time and take up to five years to graduate.
Join the Society for Human Resource Management® Graduate Chapter
As a future HR professional, consider participating in the Society for Human Resource Management. This vital international organization has an active student chapter at IUP. It offers a range of opportunities for networking, leadership, and additional professional development activities—including professional certification as you progress through your career.
Like our Master's in Health Services Administration program, SHRM graduate chapter meetings are held in person and online.
Learn Even More at Our Annual Leadership Retreat
If you think "managing a Mickey Mouse operation" is an easy task, just ask the staff at Walt Disney World in Orlando, Florida. IUP offers an optional annual conference with discounted rates for graduate students in the MS in Health Services Administration program. You'll attend faculty-guided leadership and HR activities, including special training from Disney staff.
Admission Criteria, Requirements, and Process
Admission Criteria
A minimum cumulative GPA of 2.6 or higher (if a bachelor's degree was earned within the last five years) is required. If you graduated over five years ago, a cumulative GPA of 2.4 or higher is required.
Earned bachelor's degree from an accredited institution.
Evidence of coursework in statistics and research methodology and design is strongly recommended.
Application Requirements
Two letters of recommendation. If your bachelor's degree was earned within the last five years, at least one letter must be from a faculty member or the dean/director of the undergraduate program. If your degree is older than five years, both letters must be from employers or professional colleagues.
Satisfactory professional essay (minimum of two pages) to include a description of the following:

A significant professional accomplishment
Expectations of graduate study
Career goals
Application Process
Submit all application materials to IUP's School of Graduate Studies and Research. Items should include:
Application form
Two letters of recommendation
Signed and dated goal statement (professional essay)
Official transcripts from all colleges and universities attended
$50 application fee (nonrefundable)
Early Admission: Get a Head Start on Your Advanced Degree
If you're a bachelor's degree student at IUP and expect to pursue a Master's in Health Services Administration, you're encouraged to apply for early admission. To do so, you'll need to:
Be in the semester in which you'll earn your 60th credit (typically 2nd semester sophomore year).
Have earned at least 15 credits in your major.
Maintain at least a 3.0 GPA.
This is also a great option if you believe your major is not matching job aspirations and health care is a potential career interest.
Consider Dual Master's Programs
Add an MS in Human Resources and Employment Relations to your MS in Health Administration coursework and count 18 credits toward both programs. You'll deepen your HR knowledge and broaden potential employment opportunities in health care or other fields.
Students cannot often earn two master's degrees at once, but with our flexible and convenient MS in Health Services Administration, adding a second master's degree is possible. And you can complete both in as little as 21 months.
Other dual master's combinations are possible. Contact the program coordinator from your other degree program to find out more information.