Nationwide, veterans are one of the fastest growing segments of entering college students, and educational institutions are finding new ways to accommodate veterans' academic needs.
IUP is nationally recognized for its efforts to assist students with military service experience. IUP offers the following for veterans and service members:
The IUP Office of Veterans Affairs coordinates the financial benefits for students who are veterans. Please visit this website for a complete listing of eligibility, benefits programs, and steps for applying for benefits.
This is a recognized student organization that hosts events of special interest to students who are veterans or current service members.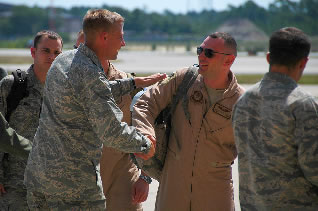 ROTC is of special interest to many students who are reservists or active in the National Guard program who may be eligible to enroll in this officer training.
The Counseling Center runs a veterans' support group for students who are current or former members of the military. The group discusses issues faced in the military community as well as any issues involved in transitioning to the campus community. This is a drop-in group and does not require a commitment to all sessions.

Veterans Outreach Committee

Composed of students, faculty members, and administrative staff, this committee meets regularly to improve university services to students who are veterans.
IUP's campus features memorials and displays honoring the service of members of the military and veterans.
Several of IUP's student veterans contributed photos from their time in service.