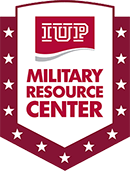 IUP is committed to providing military-friendly programs and services to our veteran and military-affiliated students.
Are you aware that you may be entitled to other VA benefits such as health care, vocational rehab services, and other VA benefits? Are you aware of scholarships that are available for veterans and military dependents? Do you know where you can get a discount on a meal because you're a veteran or in the military?
Click on the MRC publications below to learn more!
Scholarships for Veterans and Military-Affiliated Students
Community Resources and Businesses That Offer Discounts
Discounts for Veterans and Military Members in Indiana County