This is part of the Elephant in the Room, a series about conversation and action for diversity, inclusion, and equity in the classroom and beyond, in partnership with the Women's and Gender Studies program.
All IUP faculty members and teaching associates were invited to attend this Reflective Practice Large Group Meeting: "Facilitating Challenging Conversations in the Classroom: Preparing for the Unexpected or Unimaginable!" This event was held on Wednesday, November 7, from 3:30 to 5:00 p.m. in Ackerman 116.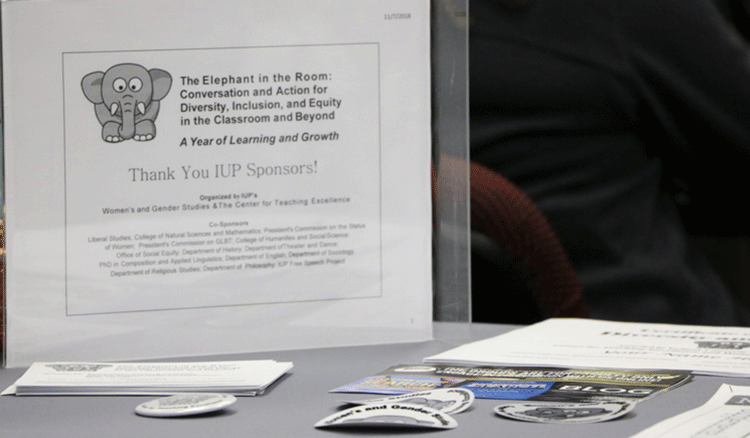 Human interaction, whether in the classroom or in the street, can sometimes be messy and confrontational. As educators we have a responsibility to successfully manage these somewhat abrasive situations and to coordinate the aftermath to ensure an ongoing and productive relationship with the other party or student. Techniques such as De-escalation and Restorative Justice can be tools to utilize when met with these antagonistic episodes. Sharing our experiences and talking about successful response strategies can help prepare us, should we find ourselves in a challenging situation.
Panelists
Alison Downie, Religious Studies
Dennis Marsili, Criminal Justice Training Center
Tedd Cogar, Office of Student Conduct