2019 Faculty Recognition Award Winners
2019 Faculty Recognition Award Winners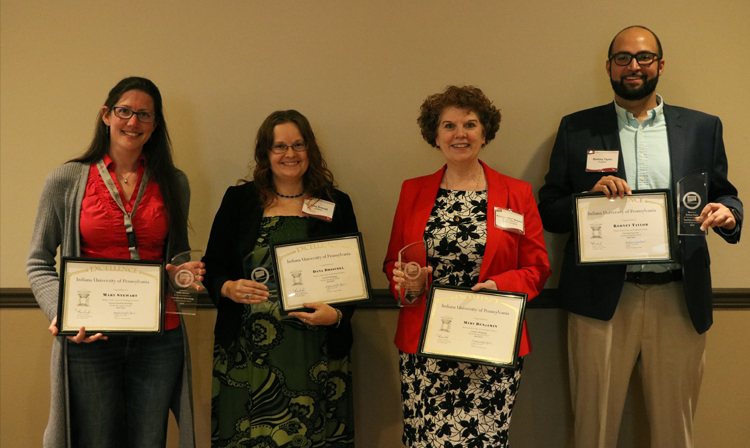 Mary Stewart, Dana Driscoll, Mimi Benjamin, Rodney Taylor
Winners of the 2019 Center for Teaching Excellence Faculty Recognition Awards were honored on Wednesday, April 24, during a banquet at the Rustic Lodge in Indiana, Pa.
Mimi Benjamin
Student Affairs in Higher Education
College of Education and Technology
Award Category: Content Pedagogy
Redesigning the SAHE 634: Assessment and Evaluation in Student Affairs course project to afford students the opportunity to apply concepts learned in class each week to a semester-long assessment project provided a real-world application of the content for students. In teams, students created and conducted assessment projects for student affairs/student services units at IUP as well as partner institutions, providing a service to the units by addressing real assessment questions that can inform unit decisions. Students held regular client meetings, collected and analyzed data, and offered findings and recommendations based on the data as well as the knowledge of student affairs practice they have acquired during their master's program. As a result of this course, seven units benefited from having an assessment provided to them, and students benefited from the opportunity to put their course content into practice.
Dana Driscoll
English
College of Humanities and Social Sciences
Award Category: Content Pedagogy
Through all of her courses, Dr. Driscoll offers student engage and creative instruction focused on long-term writerly development and learning transfer. ENG 835: Research Design and the Craft of Writing is a course that Dr. Driscoll developed for the Doctoral Program in Composition and Applied Linguistics, with the focus on teaching effective content through instruction in research design and the craft of professional
academic writing. The course focuses in on three key areas of content necessary for doctoral students: engaging in advanced research design, helping students transition to professional academic writers, and supporting independent writing processes.
Through in-class group workshops, engaging activities, and high quality, iterative feedback in the course, students are able to successfully navigate narrowing a topic and developing a dissertation research proposal, a prerequisite to completing a successful dissertation. Multiple one-on-one conferences, direct feedback, and activities and readings teach students specific rhetorical and genre conventions for professional academic writing and publishing.

Mary Stewart
English
College of Humanities and Social Sciences
Award Category: Instructional Technology
Mary K. Stewart (English Department) designed a fully online section of ENGL 202 that utilizes asynchronous and synchronous modalities to facilitate an engaged and interactive community of learners. Students work in research teams to locate sources, draft annotated bibliographies and literature reviews, engage in IRB-approved field research, draft methods and findings, create data visualizations, and then revise and compile all of the elements into a 15-20 page research paper. The students' learning experiences are facilitated by careful attention to instructional design and thoughtful integration of technology, including a custom navigation bar in D2L, weekly videos in which the instructor responds to student work, and synchronous video chats that facilitate peer review. The course also adheres to the best practices in online pedagogy by presenting multi-modal and interactive instructional materials that foster group cohesion, such that learners work towards a common goal and engage in collaborative inquiry.
Rodney Taylor
English
College of Humanities and Social Sciences
Award Category: Teaching Associate
Rodney Taylor has experience in freshman composition, research writing, and introductory literature courses. His approach to research and teaching is guided by a teacher scholar model that emphasizes a philosophy of immersive learning and cultural awareness, complementing the Center for Teaching Excellence's mission of enhancing pedagogy in all forms through research, teaching, and inclusion. Most recently, Taylor was awarded an IUP School of Graduate Studies and Research Grant to support travel to The Virginia Historical Society in Richmond, VA to access archival materials on Richmond based lecturer and poet. Further, he was awarded a Northeast Modern Language Association Travel Grant to present research pertaining to his doctoral dissertation.