The Center for Teaching Excellence has partnered with Women's and Gender Studies to present the series. Learn more about the series including goals, faculty engagement and it's connection to university strategic initiatives.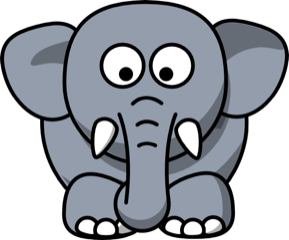 The Elephant in the Room:
Conversation and Action for Diversity, Inclusion, and Equity in the Classroom and Beyond

While the menu for this page may not show all this series' events, the links below will take you to the information.

Fall Semester
Wednesday, August 21, 2019: Susan Graham, IUP's Green Dot Workshop: "Are You Ready for Green Dot IUP?" 3:30-5:00 p.m., 113 Stouffer

Wednesday, September 18, 2019: IUP's Safe Zone and LGBTQ Studies Workshop: "Beyond the Binary: Supporting a Trans Inclusive Classroom" 3:30-5:00 p.m., 114 HSS

Wednesday, September 25, 2019: Griselda Wille, Lunch and Learn: "A Historical Overview of Immigration Reform in the U.S." 12:15-2:00 p.m., Elkin Hall Great Room

Thursday, October 3, 2019: Susan Graham and colleagues, Reflective Practice, IUP Workshop: (Faculty and Teaching Associates Only) "What to do?: Successful Strategies for Assisting At-Risk Students Using a Green Dot Bystander Intervention Framework" 12:30-2:00 p.m., 116 Ackerman

Monday, October 7, 2019: Six O'Clock Series: "Holocaust Survivors Discuss Police and Bystanders in the Nazi Era" 6:00 p.m., HUB Ohio Room

Wednesday, October 23, 2019: International Tea Time and Education Abroad Fair: Presented by the Office of International Education. Get your "passport" stamped, present at WGS office. 12:00-3:00 p.m., HSS Lobby

Wednesday, October 30, 2019: Adam Jones, Michael Schwartz, & Nancy Pipkin Hutchinson, IUP Workshop: "Difficult Dialogues" 3:00-4:30 p.m., 114 HSS
Spring Semester
TBA
~Completion of four events earns a Certificate of Training in Diversity and Inclusion~
Organized by IUP's Women's and Gender Studies and the Center for Teaching Excellence.
Co-Sponsors
The Office of the Provost; College of Natural Sciences and Mathematics; Department of Theater and Dance; Department of Sociology.