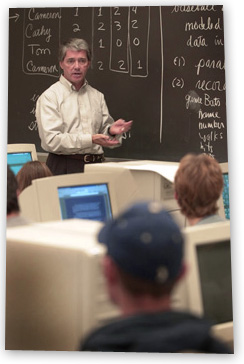 This project was generously supported by a grant from the Pennsylvania Liquor Control Board.
Like all campuses, IUP's community is impacted by alcohol use. Students who drink excessively usually have lower grades. They are also at risk for personal injury or harm. Students who don't drink or who use alcohol moderately are also impacted by their peer's alcohol use. Vandalism and violence are also precipitated by alcohol use. By offering alcohol-related information, you can help influence the campus's culture around alcohol use.
Curriculum infusion is the process of integrating alcohol prevention content into courses across the curriculum. Faculty members design and deliver alcohol education content for the classes they teach. By integrating alcohol education in many disciplines, students can be challenged to evaluate their beliefs about alcohol use and assess their use habits.
The willing participation of faculty members is an essential part of developing an effective infusion. Developing a meaningful prevention module into a class can be a challenging task. Some subjects tend to be more permeable to the addition of a section focusing on substance abuse issues. Business classes could investigate the impact substance abuse has on the workforce and discuss signs that an employee might have a problem with drugs or alcohol or look at media glamorizing alcohol to increase sales. The social sciences classes could investigate reasons why certain demographic groups are more prone to substance abuse. Psychology classes could examine individual factors that could lead to substance abuse. Classes in chemistry could analyze the chemical structure of alcohol and also the chemical changes alcohol causes in the body. Biology classes could also investigate how the body is affected by alcohol.
Visit either of the following websites for more information and a more complete listing of curriculum infusion ideas.
University of Richmond — Curriculum Infusion Activities
Network for the Dissemination of Curriculum Infusion
If you have any questions or would like to share how you are or planning to incorporate curriculum infusion into the classroom, send us an e-mail at atod-oasis@iup.edu.