2022 Systemwide Climate Survey
In spring 2022, IUP participated in the Systemwide Climate Survey that the Pennsylvania State System of Higher Education sponsored across all 14 universities and the System Office. The survey was administered by Viewfinder Campus Climate Surveys and ran from January 31 to March 4, 2022. Individualized links were sent by viewfinder to students, faculty, and staff.
More information can be found here.
2015 IUP Campus Climate Survey
IUP's Campus Climate Study Report is now complete and available as a PDF download.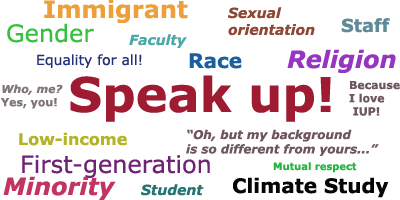 The study attempted to answer the following questions: Do we have an atmosphere of mutual respect and inclusion? Is our small community, in terms of race, religion, gender, and sexual orientation, reflective of the world our students someday will lead?
The results will inform university decision-makers on creating a diversity action plan that ensures IUP is a vibrant community for all.
President Michael Driscoll and the Office of Social Equity commissioned the study, which has IRB approval.
The Campus Climate Study was conducted in two stages:
Quantitative Data Collection and Summary Report: March–August 2015
Team: Dante Mancini, PhD, Psychology; Alex Heckert, PhD, Sociology; Chris Kitas, Institutional Research; Pablo Bueno Mendoza, PhD, Office of Social Equity
The quantitative team used the Rankin Campus Climate instrument, slightly modified to address concerns of the IUP community.
The preliminary findings were shared with the Council of Trustees in August 2015.
Qualitative Data Collection and Final Report: November 2015–August 2016
Team: Melanie Hildebrandt, PhD, Sociology; Melissa Swauger, PhD, Sociology; Karen Eash, graduate research assistant, Sociology; Samuel Fry, graduate research assistant, Sociology
The qualitative team conducted focus groups and interviews to develop a deeper understanding of the campus climate.
The final report was shared with the IUP Council of Trustees in August 2016.
Hildebrandt and Swauger continue to present the final report to the campus community through college and divisional presentations.
In the months since the release of the report, open presentations were given and the university has addressed some of the recommendations with efforts such as creating a multicultural center, establishing a presidential commission to lead the development of a diversity action plan, and refocusing the IUP Punxsutawney campus.