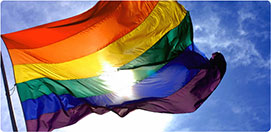 Created in 1998, the University Commission on Gay, Lesbian, Bisexual, and Transgender (GLBT) Issues is an advisory group to the Social Equity and Title IX Office and the president. The group has since changed its name to the LGBTQIA+ Commission.
The purpose of the commission is to improve the climate for diversity within IUP, and to specifically address issues affecting the welfare of LGBTQIA+ community members.
The commission supports multiple campus programs and groups, including:
Weekly Queer Conversations workshops
Lavender Graduation
Pride Alliance and Safe Zone support
LGBTQIA Film Festival and Annual Visibility Day
Chalk-on-the-Walk Sidewalk Commentary
Six O'Clock Series and other programming events
The Commission works closely with the LGBTQIA Support Office and the Center for Multicultural Student Leadership and Engagement in supporting students and hosting events. Of note, the Commission co-hosted "Intersectionality Works: Allyship, Coalition, Solidarity" during the 2021 spring semester. Read more about this mini-conference.
Interested in a minor in LGBTQ Studies at IUP?
LGBTQ Studies is an interdisciplinary minor that provides students the opportunity to critically examine diversity in sexual and gender identities. The minor is designed to supplement all majors in the university and provides valuable preparation for careers in all fields, including business, criminal justice, education, health care, human services, and the military.
Lavender Graduation
Annual celebrations of IUP's LGBTQIA+ community and ally graduates are held each spring, with all IUP members, family, and friends invited to attend. Graduating seniors can request participation and lavender cords. Please contact Tedd Cogar at lgbtqia-support@iup.edu.
Preferred First Name Policy
IUP has established a policy that allows students, faculty, staff, and alumni to indicate their preferred first names to the university community, even if they have not legally changed their first names. Read the policy and FAQ, and obtain a request form through the Preferred First Name Policy page.
All-Gender Restrooms
An interactive map is available, which highlights the location of all-gender restrooms across campus.
Events
For LGBTQIA+ and other related events, please also refer to the IUP Diversity Calendar.
For further information about LGBTQIA+ initiatives at IUP, please contact:
Dave Berberich, interim commission chair, berberkd@iup.edu, or Tedd Cogar, LGBTQIA Support Office, lgbtqia-support@iup.edu.