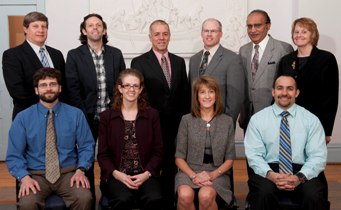 These faculty members were recognized at the 18th annual awards luncheon on April 2, 2012.
Dr. Azad Ali, (standing, third from left),Outstanding Researcher for the Eberly College of Business and Information Technology. Dr. Ali has been a professor of the Technology Support and Training Department since January 2006. Dr. Ali is among the most productive scholars in the Eberly College. He has over 50 refereed publications and international presentations on IT-related topics. Like most teacher/scholars, his research has contributed to his course content.
Dr. Lisa Hammett Price, (seated, second from left), Outstanding Researcher for the College of Education and Educational Technology. Dr. Price has conducted research concerning the interactions that take place during book reading routines between parents and children and teachers and children. Her work is helping us to better understand the connections between parent and teacher behaviors and their impact on the literacy skill development of children with language impairments.
Dr. Robert W. Sweeny, (standing, second from left), Outstanding Researcher for the College of Fine Arts. Dr. Sweeny's research deals with numerous aspects of digital technologies in art educational settings. His research includes the possibilities for complexity theory as an art education research methodology and studio practice, the implications of social media in teaching and making art, and the similarities between surveillance technologies and modes of artistic viewership.
Dr. Christian Bolden, (seated, right),Outstanding Researcher for the College of Health and Human Services. Dr. Bolden studies group behaviors and processes from the perspectives of gang members through in-depth interviews and social network analysis. He was recently invited by the FBI Behavioral Science Department to attend a select conference on Gangs, Terrorism and Weapons of Mass Destruction.
Dr. William Donner, (seated, left),Outstanding Researcher for the College of Humanities and Social Sciences. Dr. Donner works with IUP's Mid-Atlantic Addiction Research and Training Institute, serves on the Appropriations Team for the Marcellus Shale Project, and has several publications in the area of environmental sociology and disaster management. He is currently engaged in a National Science Foundation-funded project and continues to pursue grant opportunities.
Dr. Devki Talwar, (standing, second from right), Outstanding Researcher for the Kopchick College of Natural Sciences and Mathematics. Dr. Talwar is an expert in the use of infrared, Raman, and photo-luminescence spectroscopy and has developed theories to understand lattice dynamics, thermal behavior, pressure dependent properties, and electronic structure of these materials. He has a strong, consistent research career evidenced by peer-reviewed journal articles, presentations at scientific meetings, and significant external funding for his research program.
Dr. Jeffery Larkin, (standing, third from right),Sponsored Programs Award for Outstanding Achievement in ResearchandGraduate Dean's Award for Outstanding Commitment to Sponsored Programs. Dr. Larkins and his students conduct research on various wildlife and conservation issues. His research combines his expertise in forestry, wildlife ecology, and conservation implementation, with a strong emphasis on wildlife-habitat relations at multiple spatial scales. Dr. Larkin is a prolific researcher, with external funding awards totaling $1,260,925 to date. His research has been funded by the U.S. Department of the Interior, U.S. Fish and Wildlife Service, National Council for Air and Stream Improvement, Inc., Pennsylvania Department of Conservation and Natural Resources, Pennsylvania Game Commission and American Bird Conservancy. Dr. Larkins involvement of both undergraduate and graduate students on his sponsored projects enriches their educational experience with hands-on field experience. Read more about Dr. Larkin.
Dr. Elizabeth Palmer, (seated, second from right),Sponsored Programs Award for Outstanding Achievement in Curriculum and Instruction. Dr. Palmer's $299,890 federal grant provided the Nursing and Allied Health Professions Department with a new simulation laboratory focused on preparing students for the special challenges of home health care and hands-on training in the use of electronic medical records. Dr. Palmer is busy integrating these technologies into the undergraduate and graduate curricula in order to prepare workforce-ready graduates skilled in patient care technologies. Read more about this project.
Dr. Beverly A. Chiarulli,(standing, right) Sponsored Programs Award for Outstanding Achievement in Public Service. Dr. Chiarulli's projects, through Archaeology Services, are funded by the Pennsylvania Department of Transportation and assist with cultural resource conservation. Her work provides meaningful experience to her students and protects the important historic resources in the Commonwealth. Read more about this project.
Dr. Dennis Giever (not in photo) and Mr. Michael Marcantino, (standing, left), Sponsored Programs Award for the Outstanding Center, Institute or Program. The Constable Training Program is a component of the Criminal Justice Training Center at IUP. The program is funded by the Pennsylvania Commission on Crime and Delinquency and provides law enforcement training services.
Dr. Brian Okey, (not in photo), IUP Research Institute Award for New Investigator. Dr. Okey's project monitors surface water quality affecting Beaver Run Reservoir, a public drinking water source serving approximately 130,000 people that is operated by the Municipal Authority of Westmoreland County. This research provides an important contribution to the community as well as learning opportunities for students, both inside and outside the classroom. Read more about this project.