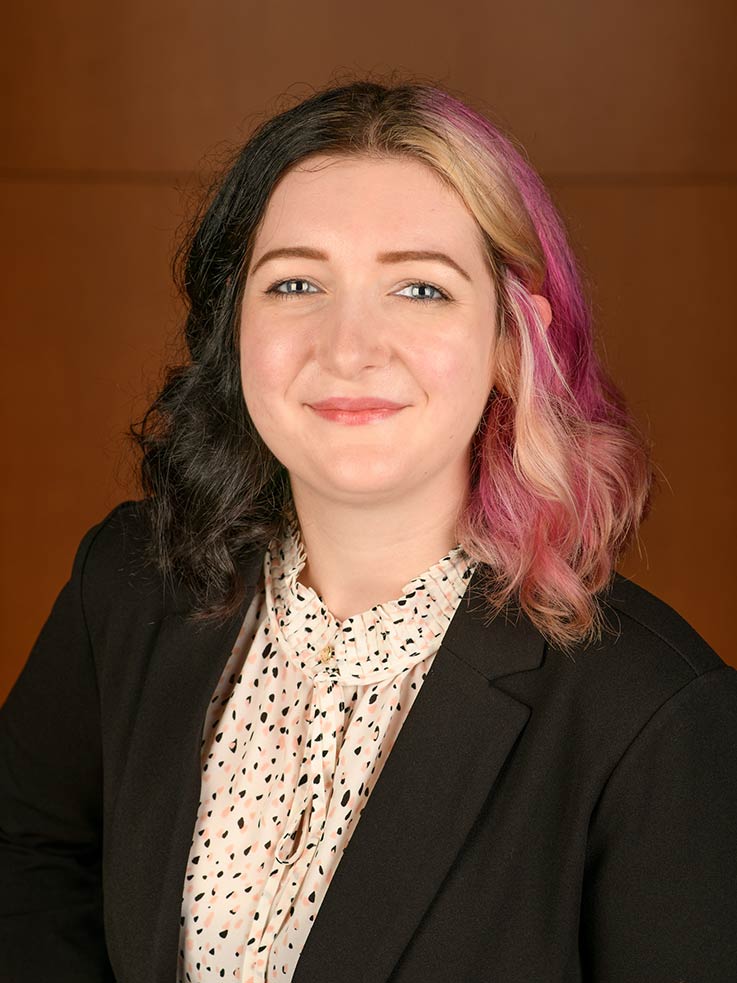 Elizabeth Haffling, a senior hotel, restaurant, tourism, and event planning major from Martinsburg, has been awarded the prestigious Statler Foundation's Scholarship of Excellence. 
She is the third IUP student chosen for this competitive scholarship.
The scholarship is awarded based on academic excellence, character, and commitment to the industry. Each scholarship is worth up to $25,000 for the academic year to be used for tuition, fees, and books.
The Statler Foundation was created from the estate of hotelier Ellsworth M. Statler following his death in 1928. Its purpose is to support research work and train employees for the benefit of the hotel industry.
Statler, a self-made millionaire who worked his way from bellhop to industry legend, founded the largest premier hotel chain of his day. The Statler Scholarship of Excellence was established in 1997 and is awarded to students who demonstrate a high degree of academic performance and aptitude in studying the hotel management field and who aspire to a career in the hotel industry after graduation. 
Haffling, daughter of Amy Haffling and Greg Haffling, is a 2014 graduate of Spring Cove School District. She is a dean's list student at IUP and is a member of Eta Sigma Delta hospitality management honor society and a student member of the Society for Human Resources Management and the Women in Business organization. She is a volunteer at the Indiana Free Community Library.
"I can't thank you enough for the generosity of the Statler Foundation," Haffling said. "As a nontraditional student financing my own education, it's not an exaggeration to say that receiving this funding is life-changing for me. I feel extremely grateful for this investment in my future."
Haffling completed IUP's Academy of Culinary Arts certificate program in 2015 and the Baking and Pastry certificate program in 2016, graduating from both programs with high honors. After completing the hours required for her externship at Pinehurst Resort in North Carolina, she was hired there as a full-time pastry cook and worked at Pinehurst for two years.
Looking to advance her career, she moved to Virginia Beach and was hired as a pastry cook at the Marriott Autograph Collection Historic Cavalier Hotel. After working at the Cavalier for almost a year, she took a position at Prosperity Kitchen and Pantry, a local scratch, artisan bakery, where she could expand her bread skill set. After working at the bakery for a year, she was promoted to sous chef of the operation and held that position for more than two years.
That work provided her experience in both leading a team and providing customer service, and it also led her to think about meeting additional career and personal goals. She made the decision to return to IUP to complete a bachelor's degree to provide networking connections and increased opportunities within the hospitality industry.
"I have a tremendous amount of passion for the hotel industry and hospitality in general," she said. "I genuinely can't imagine pursuing anything else as a career. I have always been drawn to food and art, but service runs in my blood. My love language to others has always been acts of service, and I'm happiest when helping those around me. There are few things more satisfying than being part of an incredible guest experience—the joy and comfort a great hotel or dining experience can procure is simply magic… similar to how bakers are able to take simple ingredients like flour, water, and salt, and create delicious loaves of bread," she said.
After completing her degree, Haffling plans to continue to advance her career as either a food and beverage director or working as an executive pastry chef.
"On behalf of Elizabeth, the recipient of the prestigious Statler Scholarship of Excellence, our Hotel, Restaurant, and Event Management faculty, and the leadership from our management department chairperson, Dr. Ramesh Soni, we are extremely grateful for the generosity given to us from the Statler Foundation to support our students," Stephen Shiring, IUP professor of Hotel, Restaurant, Tourism, and Event Management, said.
"Every day we dedicate ourselves to delivering unique educational experiences guided by the passion and energy E. M. Statler carried himself in providing exceptional customer service, innovation, and employee recognition," Shiring said.
IUP's first Statler Foundation recipient was Kyle Kubicko, of Natrona Heights, who was selected for the scholarship in 2021. He earned a bachelor's degree in hotel, restaurant, tourism, and event management and an associate degree in applied science in culinary arts and graduated with his MBA in May. He is the event coordinator at the River Forest Country Club in Freeport.
IUP's second Statler Foundation recipient, Josephine Vance from Natrona Heights, completed her IUP degree in hotel, restaurant, tourism, and event planning in May and is the assistant catering operations manager, SSA Group, Pittsburgh Zoo & Aquarium.
In May 2022, the Statler Foundation gifted $125,000 to IUP to construct a hotel front desk simulation lab for students in the Hotel, Restaurant, Tourism, and Event Management program. The simulation desk is currently under construction in a classroom in IUP's Eberly College of Business building, which is home to the program.
Tracing their lineage at IUP back to 1916, the Hotel, Restaurant, Tourism, and Event Management program has been providing an exceptional education to its students who are interested in pursuing a career in this exciting field, offering specialized knowledge and skills for managing the businesses within the hospitality industry. 
The program consistently enrolls more than 100 majors annually, making it the second-largest undergraduate hospitality program of study in the Commonwealth of Pennsylvania. IUP's Hotel, Restaurant, Tourism, and Event Management program is ranked ninth in the nation by Study.Com and is accredited by the Accreditation Commission for Programs in Hospitality Administration. The program is part of IUP's Department of Management in the Eberly College of Business.