IUP Receives $125,000 in Funding from Statler Foundation to Create Check-In Desk for Students in Travel and Hospitality Industry
It's check-in time for a $125,000 gift to Indiana University of Pennsylvania from the Statler Foundation.
These funds will be used to construct a hotel desk simulation lab for students in IUP's Hotel, Restaurant, Tourism, and Event Management program.
"This simulation lab will provide a great advantage to our students who are preparing for careers in the travel and hospitality industry," Stephen Shiring, assistant chairperson of the Department of Management and director of the Hotel, Restaurant, Tourism, and Event Management program, said. "It's a very generous donation, and we are very grateful to the Statler Foundation for their support. The Foundation is very selective, and this gift is a very gratifying recognition of our program's commitment to excellence.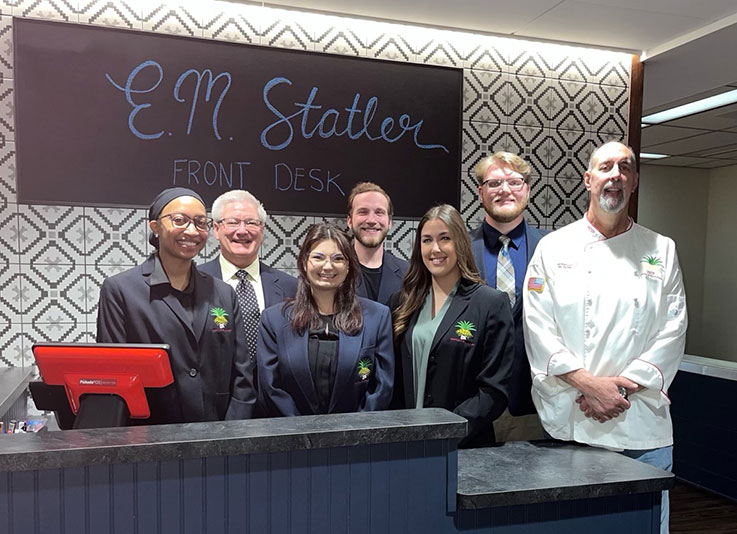 IUP's Hotel, Restaurant, Tourism, and Event Management program is part of IUP's Department of Management in the Eberly College of Business.
The simulation desk will be housed in a classroom in IUP's Eberly College of Business building. Construction is currently underway and is expected to be completed for fall 2023. Once completed, IUP will be one of the few public colleges and universities in Pennsylvania to offer this type of facility and hands-on training opportunity to students.
"Learning how to interact with customers is an integral part of a hospitality career," Shiring said. "The simulation desk will provide an opportunity for students to experience a real check-in and check-out process at a desk that will be custom-built for practicing check-in and customer service operations.
"It will allow students to become familiar and comfortable with the procedure, working behind the mock desk and acting as guests for their fellow students. The students will also get practice on hotel industry software," he said.
The Statler Foundation was created from the estate of hotelier Ellsworth M. Statler following his death in 1928. Its purpose is to support research work and train employees for the benefit of the hotel industry. Statler, a self-made millionaire who worked his way from bellhop to industry legend, founded the largest premier hotel chain of his day. The Statler Scholarship of Excellence was established in 1997 and is awarded to students who demonstrate a high degree of academic performance and aptitude in studying the hotel management field.
This is the second gift from the Statler Foundation for IUP's Hotel, Restaurant, Tourism, and Event Management program and students. In July 2021, the Statler Foundation selected IUP senior Kyle Kubicko, a hotel, restaurant, tourism, and event management major from Natrona Heights, for the Statler Foundation Scholarship of Excellence, a $25,000 scholarship to be used for tuition, fees, and books.
"We are humbled by the Statler Foundation's generosity, which will further our hotel, restaurant, tourism, and event management program by providing funding for a real-life representation of a hotel front desk for our students," IUP Vice President for University Advancement Khatmeh Osseiran-Hanna said.
"This educational enhancement will impact the hands-on learning of our students for decades to come and will help IUP to prepare leaders in the hotel and tourism industry. The Statler Foundation's investment in this capital improvement project and in our students through the Scholarship of Excellence will help us to continue to provide one of the Commonwealth's premier hospitality management programs, shaping current and future hospitality leaders," she said.
Tracing its lineage at IUP back to 1916, the IUP Hotel, Restaurant, Tourism, and Event Management program has been providing an exceptional education to its students who are interested in pursuing a career in this field, offering specialized knowledge and skills for managing the businesses within the hospitality industry. 
The program consistently enrolls more than 100 majors annually, making it the largest undergraduate hospitality program of study in the Commonwealth of Pennsylvania. IUP's Hotel, Restaurant, Tourism, and Event Management program is ranked ninth in the nation by Study.Com.