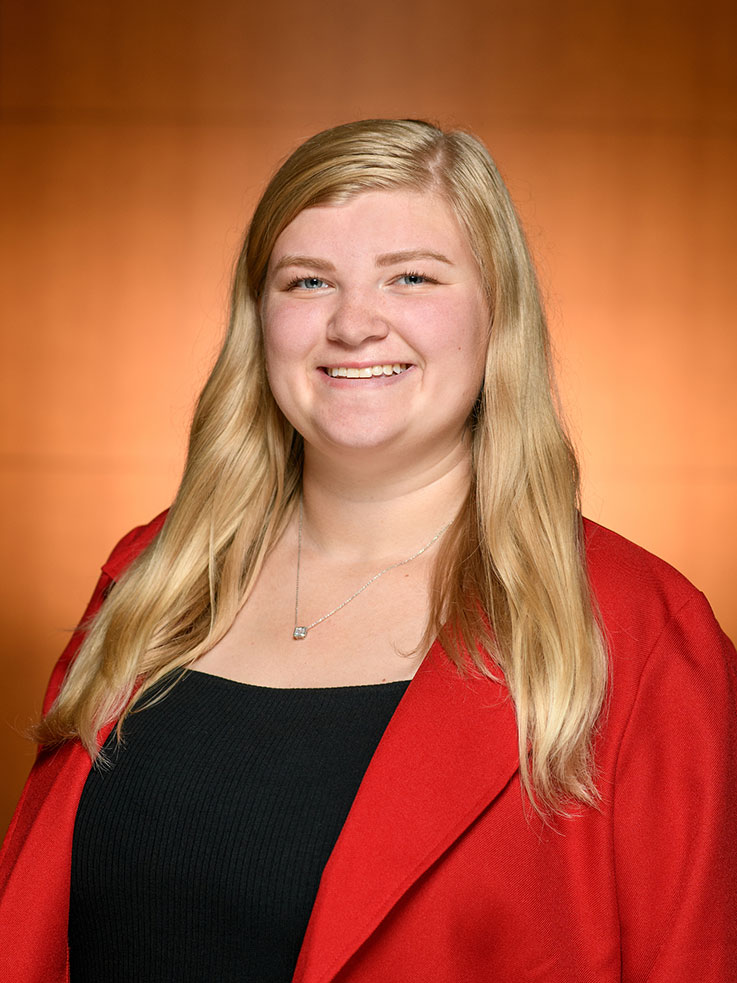 Josephine Vance, a senior hotel, restaurant, tourism, and event planning major from Natrona Heights at Indiana University of Pennsylvania, has been awarded the prestigious Statler Foundation's Scholarship of Excellence.
She is the second IUP student chosen for this competitive scholarship.
The scholarship is awarded based on academic excellence, character, and commitment to the industry. Each scholarship is worth up to $25,000 for the academic year to be used for tuition, fees, and books.
The Statler Foundation was created from the estate of hotelier Ellsworth M. Statler following his death in 1928. Its purpose is to support research work and train employees for the benefit of the hotel industry.
Statler, a self-made millionaire who worked his way from bellhop to industry legend, founded the largest premier hotel chain of his day. The Statler Scholarship of Excellence was established in 1997 and is awarded to students who demonstrate a high degree of academic performance and aptitude studying in the hotel management field, and who aspire to a career in the hotel industry after graduation. 
Vance, daughter of Mary Vance and Jason Vance, is a 2018 graduate of Highlands High School. She is a dean's list student at IUP and is a member of the Student Activity Committee and the Meetings Professional International Club.
Vance has worked in a number of jobs throughout her high school years and early on during college, including as a server at a Dairy Queen, a desk clerk at a real estate office, and a mail carrier at a post office. Her experiences allowed her to evaluate her strengths and weaknesses and confirmed her passion for working with people, particularly in the hospitality industry.
This summer, she had an internship with Armstrong Farms in Sarver, an event and lodging site which specializes in weddings.
"Ultimately, my dream goal is to work for Disney Fairytale Weddings," she said. "Wedding planning is something that I've always wanted to do, and working in that field as an intern this summer made me fall in love with it even more. I loved working with different vendors and with brides and grooms, and I love hearing from a customer that the event was just perfect."
She got the internship when she went to Armstrong Farms to tour it as a possible venue for her own upcoming wedding in December 2023. "I worked at weddings there every weekend this summer, and I loved it," she said. "I really enjoy working with people—it can be frustrating at times, but I know this is what I want to do."
Vance credits her advisor, Stephen Shiring, IUP professor of Hotel, Restaurant, Tourism, and Event Management, for guiding her and helping her to create her academic and her career path.
"Dr. Shiring has been very helpful," she said. "He's always sending out information about scholarships and other opportunities on campus. IUP is amazing in the opportunities that it offers, and the faculty are super helpful. If I could give any advice to students, I would urge them to get involved in clubs and activities and put themselves out there to seek scholarships."
Vance said she was shocked when she received the notification that she had been selected for the scholarship.
"I was super happy to find out that I received the scholarship," she said. "It's a great financial help, and it really helped me to feel more confident in my abilities, and to reinforce that if I set my mind to it, and be open to opportunities, I can accomplish my goals.
"Ultimately, I want to have a résumé that shows that I've grown in many ways—from working at a Dairy Queen, to working at the United States Postal Service, to completing an internship, earning my bachelor's degree, and receiving this scholarship," she said.
"I've had a glimpse of my potential future and I'm excited at the prospect of what's to come," Vance said. "I am thankful for the opportunities IUP has presented me. I'm very glad that I trusted my gut, took a leap of faith, and went to school even when it seemed scary and unattainable."
"E.M. Statler is one of the three hospitality legends I pattern my life after," Shiring said. "Statler's service guidelines are very much still applicable today. They are golden rules which guide service behavior creating loyal guests.
"As a recipient of the prestigious Statler Foundation's Scholarship of Excellence, Ms. Vance exemplifies E.M. Statler's dedication and passion in the service of others, and we are most proud of her accomplishment," he said.
IUP's first Statler Foundation recipient was Kyle Kubicko, of Natrona Heights, who was selected for the scholarship in 2021. He earned both a bachelor's degree in hotel, restaurant, tourism, and event management and an associate's in applied science degree in culinary arts in May and is enrolled in the graduate program Master of Business Administration, Eberly College of Business at IUP.
In May, the Statler Foundation gifted $125,000 to IUP to construct a hotel front desk simulation lab for students in the Hotel, Restaurant, Tourism, and Event Management program. The simulation desk is currently under construction in a classroom in IUP's Eberly College of Business building, which is home to the program.
Tracing its lineage at IUP back to 1916, the Hotel, Restaurant, Tourism, and Event Management program has been providing an exceptional education to its students who are interested in pursuing a career in this exciting field, offering specialized knowledge and skills for managing businesses within the hospitality industry. 
The program consistently enrolls more than 100 majors annually, making it the second largest undergraduate hospitality program of study in the Commonwealth of Pennsylvania. IUP's Hotel, Restaurant, Tourism, and Event Management program is ranked ninth in the nation by Study.Com and is accredited by the Accreditation Commission for Programs in Hospitality Administration. The program is part of IUP's Department of Management in the Eberly College of Business.