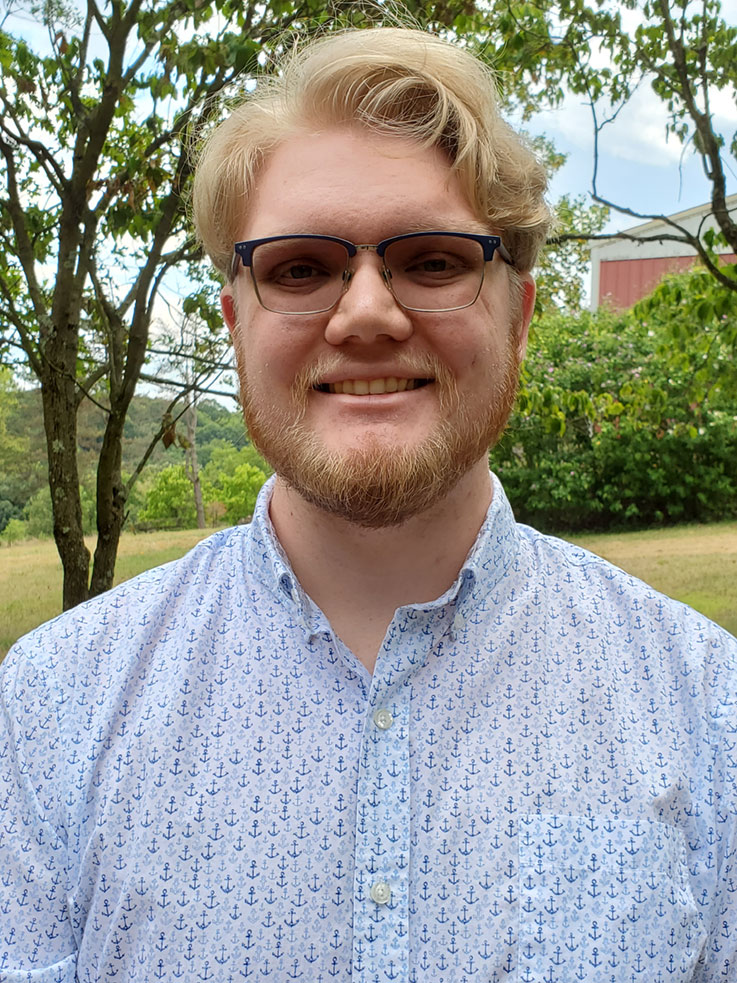 Kyle Kubicko, a senior hotel, restaurant, tourism, and event management major at Indiana University of Pennsylvania, has been awarded the prestigious Statler Foundation's Scholarship of Excellence.
The scholarship is awarded based on academic excellence, character, and commitment to the industry. Each scholarship is worth up to $25,000 for the academic year to be used for tuition, fees, and books.
Kubicko, from Natrona Heights, is the first student from IUP to receive a scholarship from the Statler Foundation.
The Statler Foundation was created from the estate of hotelier Ellsworth M. Statler following his death in 1928. Its purpose is to support research work and train employees for the benefit of the hotel industry. Statler, a self-made millionaire who worked his way from bellhop to industry legend, founded the largest premier hotel chain of his day. The Statler Scholarship of Excellence was established in 1997 and is awarded to students who demonstrate a high degree of academic performance and aptitude studying the hotel management field.
Kubicko has high praise for his Hotel, Restaurant, Tourism, and Event Management advisor, Stephen Shiring.
"I am just overwhelmed to receive this scholarship," Kubicko said. "When Dr. Shiring contacted and encouraged me to apply for this scholarship, suggesting that I was a competitive candidate, I didn't realize that it would provide a full year's tuition.
"Last year, our classes were all online, but Dr. Shiring was a great teacher, very helpful, and always sharing opportunities for externships and jobs. I can't wait to get back to the classroom and to getting more hands-on experience in the program," he said.
The prestigious Statler Foundation supports students who are aspiring for a career in the hotel industry following graduating.
Kubicko, son of Steve and Karen Kubicko, Van Doren Drive, Natrona Heights, and a 2018 graduate of Highlands High School, completed IUP's Academy of Culinary Arts program in 2019. He will graduate in May 2022 with both a bachelor of science degree in hotel, restaurant, tourism, and event management and an associate's degree in applied science in culinary arts. Kubicko is also a recipient of the Pittsburgh Hotel Association scholarship and the Elizabeth LaVelle Scholarship. He is a dean's list student at IUP and was a Culinary Dean's List student.
Kubicko was first introduced to the hotel industry through his IUP Academy of Culinary Arts externship at the Breakers Resort in Palm Beach, Florida, a five-star, five-diamond resort.
He experienced the multifaceted hotel industry during this externship: he prepared room service meals, set up and prepared dishes for banquets of hundreds of guests, and prepared breakfast spreads. He served the hotel guests by carving meats or doing live presentation cooking in front of guests. He worked in four different restaurants at the facility, including the golf section of the resort.
His experience at the Breakers Resort in Palm Beach, Florida, made him realize the hotel industry was the perfect fit to help him achieve both his life and professional career goals.
"One of my life goals is to be able to travel and see more of our beautiful country, and a fantastic way to accomplish this goal is through hotels. With there being no shortage of hotels in the United States, I could find a job essentially anywhere, which is something I want to be able to do. I am just overwhelmed to receive this scholarship," he said.
"My experience at the Academy of Culinary Arts, and the encouragement of Academy Chef (Thomas) Barnes was, and is still, a huge influence in my career path," Kubicko said. "Chef Barnes, a graduate of the IUP Hotel, Restaurant, Tourism and Event Management program himself, encouraged me to take the leap of choosing the Breakers for my externship. The Culinary Arts program was instrumental in helping me to choose to become a hotel, restaurant, tourism, and event management major.
"I am thankful for the generosity of the Statler Foundation. Beyond the financial support this scholarship provides, I see amazing opportunities this scholarship presents. It will allow me to continue my schooling and will help to push me even further. I have a strong desire to become a manager in the hotel field; I want to be a change agent in the hotel industry," he said.
"Kyle has a strong commitment and is enthusiastic to start his career following graduation as a kitchen manager in the hotel industry," Shiring said. "His externship at the Breakers Resort provided him an introduction into the fascinating hotel-resort segment of the industry.
"Kyle brings this same commitment and enthusiasm into the classroom. He demonstrates a positive attitude in everything he does, and is extremely polite and confident in his skills, and is committed to furthering his professional development. We are honored to have Kyle receive the prestigious Statler Foundation Scholarship," Shiring said.
"E.M. Statler is one of the three hospitality legends I pattern my life after," Shiring said. "Statler's service guidelines are very much still applicable today. They are golden rules which guide service behavior creating loyal guests."
Tracing their lineage at IUP back to 1916, the Hotel, Restaurant, Tourism, and Event Management program has been providing an exceptional education to its students who are interested in pursuing a career in this exciting field, offering specialized knowledge and skills for managing the businesses within the hospitality industry.
The program consistently enrolls more than 100 majors annually, making it the largest undergraduate hospitality program-of-study in the Commonwealth of Pennsylvania. IUP's Hotel, Restaurant, Tourism, and Event Management program is ranked ninth in the nation by Study.Com. The program is part of IUP's Department of Management in the Eberly College of Business.