Students in Indiana University of Pennsylvania's Department of Art and Design's three-dimensional art and design course used IUP's STEAMshop—IUP's digital fabrication makerspace—to light the way in IUP's Sprowls Hall.
Students in Sharon Massey and Sean Derry's Art 113 course used Rhino 3D and Fusion Slicer software to design hanging light fixtures for the building, which is home to IUP's Department of Art and Design.
The student designs were presented to a panel of judges, including interior design faculty Karen Scarton and Belinda Nuth and graphic design professor Tony DiMauro, in a public event held in Kipp Gallery on April 27 called "Design Stars of IUP." This event was a mock television show, presented in the style of a reality-TV design competition.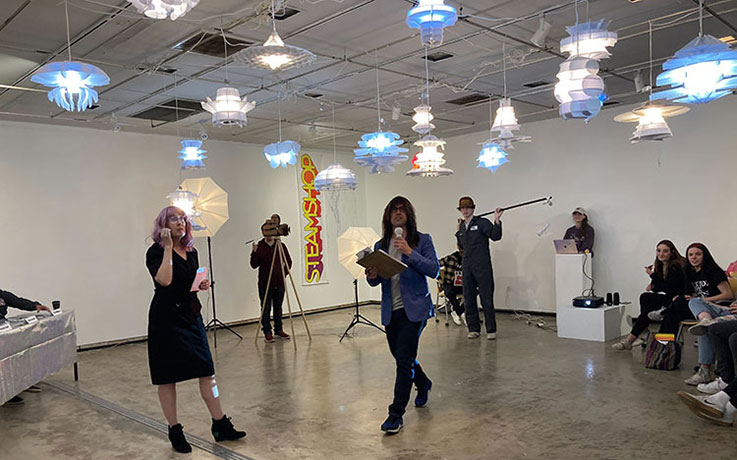 After three rounds of judging and deliberation, the judges chose designs by students Morgan Carpenter, a freshman art studio major from West Newton; Connor Kiefer, a junior communications media/media marketing major from North Versailles; and Emily McAninch, a junior speech-language pathology major from Brookville.
These designs were then laser-cut in acrylic and dyed green, orange, and pink by the students in the 3D design classes. They were installed on a lighting track in the lobby of Sprowls Hall, where they will remain on display indefinitely.  
Each student used the large format laser cutter in STEAMshop (Science, Technology, Engineering, Art, and Mathematics) to create a prototype in a white material called coroplast.
The program is part of a new program developed by Massey and Derry, Local Xchange, which brings together design, technology, and civic engagement.
"In addition to collaborative public events, Local X Change projects include scaffolded introductions to digital fabrication technology, such as 3D modeling, laser cutting, 3D printing, and 3D scanning," Derry said. "Students begin with sketches and/or handmade prototypes and are guided through the computer-aided-design process, the digital fabrication processes, and finally the public presentation of the research, gaining experience in ideation, prototyping, design, fabrication, and civic engagement."
In 2020, Massey and Derry organized a project called Common Goods, a pop-up store featuring laser-cut paper packages of items by students in pair's three-dimensional design classes. The project was designed to offer things we need but cannot buy, like kindness, health, and rainbows, Massey and Derry said.
The packages were designed by students first as hand-cut paper prototypes which were then translated into digital files for reproduction. Funds raised in November 2020 were donated to the IUP Student Assistance Fund to help students financially affected by the coronavirus pandemic. The project was held again in November 2021, with funds raised donated to the Indiana Free Library.
This multi-faceted project is a result of Massey and Derry's interest in the development and implementation of effective strategies for integrating undergraduate research experiences into the art and design curriculum. It also continues Massey and Derry's efforts to make art more accessible by involving community members in the production and exhibition of public projects.
In 2019, the pair collaborated to create Sculpture Support System, designed to provide a more in-depth professional experience for highly motivated students through social practice projects that engage community members in a range of art-making processes.
As part of the Sculpture Support System, in September 2020, Massey and Derry and their students presented "Traffic Island Oasis," transforming a traffic island on Oakland Avenue in Indiana into an island oasis.
In March 2020, the two professors and their students were commissioned by Pittsburgh's Office of Public Art to create a participatory art project called "The Quarantine Companion." The project consisted of kits containing a needle, thread, googly eyes, and instructions for how to create a "companion" while staying at home. After the companions were completed, pictures of the final artworks were hosted in a virtual exhibition on the Sculpture Support System website.
Additional projects in the Sculpture Support System include "The Community Quilt" and "The Monument Project."