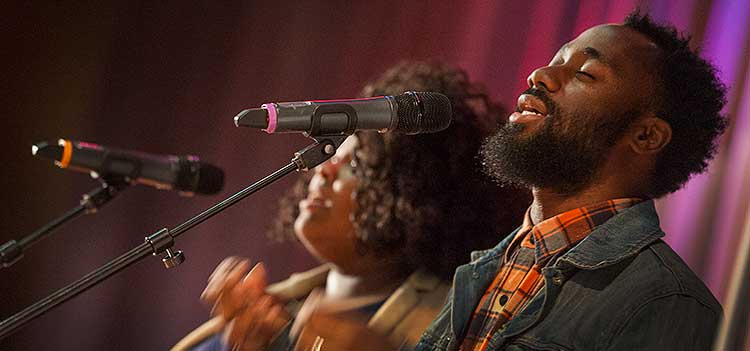 The office of Multicultural Affairs and Student Success centralizes staff in one location to coordinate programs, services, and resources for more than 2,500 multicultural students on campus.
Celebratory and Recognition Events
February: Black History Month
March: Women's History Month
June: Juneteenth (June 19) and LGBT Pride Month
September: Hispanic Heritage Month (September 15-30)
October: Hispanic Heritage Month (October 1-15); LGBT History Month; National Disability Awareness Month
November: National Native American Heritage Month
December: Kwanzaa (December 26-January 1)
Performing Arts and Cultural Events (PACE)
Movie nights and discussions
Trips to Pittsburgh to see speakers, performing arts events, and shows
Sponsoring speakers and performers on campus
Winter Celebration
The Winter Celebration event is MCSLE's fall semester pre-commencement program that honors all of our diverse fall graduates and their accomplishments at IUP. In conjunction with the holiday season, this event celebrates the seven principles of Kwanzaa and their connection to the process students take to become graduates.
Crimson Salute
The Crimson Salute event is MCSLE's spring semester pre-commencement program that honors all of our diverse spring and summer graduates and their accomplishments at IUP. This is one of our largest events of the year and allows family and friends to come and celebrate our students.
Crimson Blast
The Crimson Blast takes place at the beginning of every fall semester to introduce MCSLE to the new IUP first-year students of color. This event gives our students the opportunity to meet the MCSLE staff and connect with the multicultural student organizations which have offices in Elkin. The themed event allows students to experience an old-school block party with activities, such as hula hoops, double dutch jump rope, four corners, corn hole, dancing, and lots of food and fun.
MCSLE Support Zone
MCSLE Support Zone is a weekly discussion event held by MCSLE staff intended for students to voice any concerns or discuss any issues happening on campus.
Building Bridges
Building Bridges is a program series that opens the door for Black and Brown populations to have an opportunity to discuss and voice their concerns to the university and have meaningful dialogue about solutions.
Breaking the Barrier
BtB serves as an education and awareness initiative, implementing Intergroup/Cross Cultural Dialogue, where individuals from different social identities speak together in groups to share their perspectives, learn from one another, and arrive at new understanding through challenging previous notions.
Justice, Equity, Diversity, and Inclusion (JEDI)
The goal of JEDI is to enable participants to further their understanding of justice, equity, diversity, and inclusion by attending and participating in these workshops. Topics include: Microaggressions, White Fragility, Stomping Out the Patriarchy, and Civil Disobedience.
Lunch & Learn Series
The Lunch & Learn Series occurs at least once a month during the semester. Lunch is provided, and the topics center around diversity. Campus partners have included academic departments, Hispanic Heritage Council, Pan-African Studies, and Military and Veterans Resource Center.
IUP Celebrating Black Excellence
This program invites IUP Black alumni to discuss their personal stories of achievements, their role as community leaders, and/or their experiences that led to success in their respective professions. Students will have the opportunity to ask questions, receive valuable information, and network with Black alumni to help them as future professionals.
The Viewpoint Discussion
The Viewpoint is an ongoing discussion series that will feature different populations at IUP and be used to discuss important issues and topics on campus.