Henry Lloyd White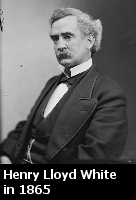 Henry Lloyd White was born on January 12, 1834 to Thomas White and Catherine Brooks McConnell White in Indiana, Pennsylvania. He was the youngest of four children: two older brothers, Richard and Alexander, and an older sister Juliet.
His father Thomas White was a well-respected Indiana County judge who had considerable wealth, elegant manners, and an interest in agricultural, especially wool- producing sheep. He also helped to build Christ Episcopal Church. White had landholdings all over Indiana County, including a Scottish farm for which he imported Scottish breeds of sheep and cattle and even a Scottish shepherd and his wife to tend the farm.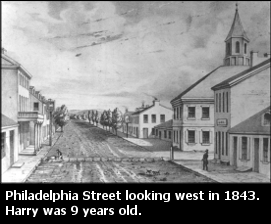 Thomas White also imported an assortment of Irish trees and shrubs for his Indiana property. On this land, in current-day White's Woods, he planned to build a magnificent English-style manor and name it Croylands, after his family's ancestral Irish estate. But White only built a stone gatekeeper's house, and the White family continued to live in their Philadelphia Street homestead. After the Civil War, Harry would build his own mansion and call it Croylands. Sadly, funds could not be found for the preservation of Croylands, and it was sold and torn down.
Young Harry White must have lived a privileged life, but it was not without tragedy. His sister Juliet was said to have secretly married a stone mason named William Coulter in 1846, when she was 16 years old, and to have used her personal funds to pay for his law training. Census records show a William Coulter who was 22 in 1850 and a student. When Juliet (who was partially blind from an accident) died in 1853 at the age of 23, Coulter came forward and said she had been his wife. It was said that after that revelation, Catherine McConnell White never again set foot outside her house and turned Juliet's portrait to the wall.
As an adult, Harry was a lawyer, a Republican politician, a Pennsylvania Senator, and a Civil War officer and prisoner of war. He was appointed by Governor Curtin, a friend of his father's, as Captain of the 67th Pennsylvania Volunteer Infantry. He was captured by Confederate forces near Winchester, Virginia, in 1863.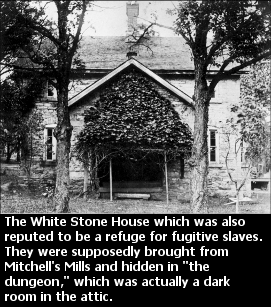 On the way to Andersonville Prisonone of the most notorious and deadly of the Confederate prison campshe escaped, and in a fascinating turn of events given his family's anti-slavery activities, was hidden, fed, and led to freedom through the night for 29 days by Georgia slaves.
Harry was brevetted to Brigadier General by President Lincoln in March 1865, only a few weeks prior to his brother Richard's death.
Later, Harry visited the South as the head of a commission to put up a Pennsylvania memorial at Andersonville. Seeing a Southern history textbook, he said that it was not history but was trying to make a political case. Harry said that although the men in blue and the men in gray were all brave men, their causes were completely different. "One," he said, "is eternally right; and one is eternally wrong."