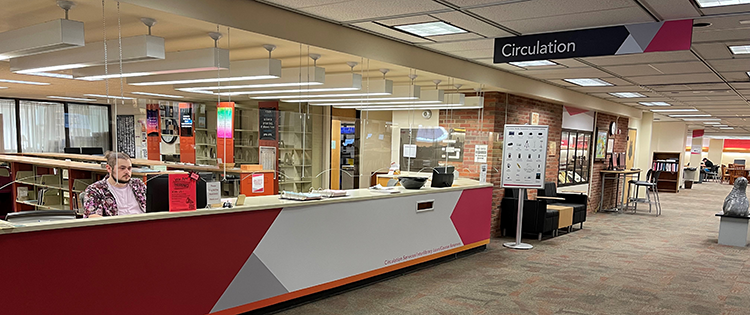 Circulation Services handles the checkout and check-in of all circulating library books, receipt and reshelving of borrowed library materials, basic help regarding circulation policy and procedure, and assisting library users with their borrowed items. The Circulation Desk is located by the front entrance of the library.
We are here to provide you access to circulating books and audio books. Your first step in accessing items is to obtain an I-Card or Community Library Card.
Students, faculty, staff and administrators will have full borrowing privileges to the entire range of items, while community card holders will have limited borrowing privileges.
Helpful Links
Circulation Services Contact Information
Joyce Piper, Circulation/Reserve/Media Supervisor, 724-357-4717 / jpiper@iup.edu
Beth Farabaugh, Interlibrary Loan Supervisor, 724-357-3037 / farabaug@iup.edu
Bobbie Zapor, Evening Supervisor, 724-357-2095 / bzapor@iup.edu
Carrie Bishop, Access and Media Services Librarian, 724-357-6206 / cbishop@iup.edu
Circulation Services Main Desk, 724-357-2340