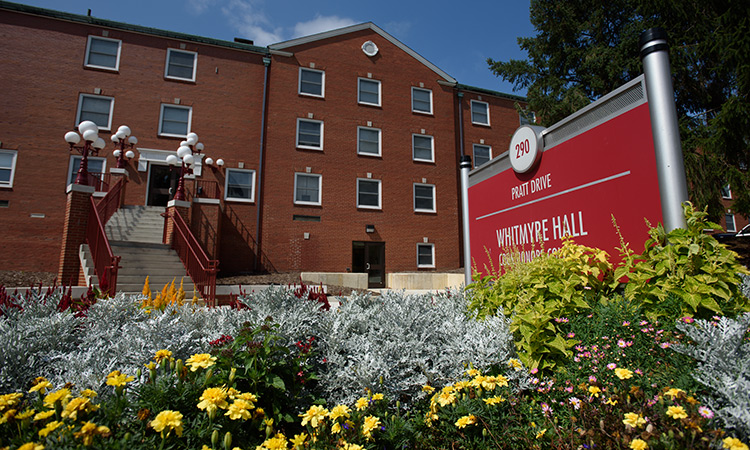 It's Easy to Feel at Home in Whitmyre Hall
One of the things that brings us together at the Cook Honors College is Whitmyre Hall. Visit Whitmyre and check out how we've blended the building's traditional character with newly renovated spaces and resources.
Renovations, New Furniture, a Science Room, and More
A major renovation completed in 2018 provided a science resource room, new bathrooms, fresh paint throughout the building, facility upgrades, additional artwork, and new furniture in the student rooms and many of the shared spaces. Some walls were removed to make the building's design work better for our students.
Comfortable Spaces, Accessible Staff
On the first floor, you'll find numerous group study rooms, private study areas, and comfortable hallway alcoves with cozy couches and chairs. You can also enjoy several lounge areas with large-screen televisions where groups of students watch movies or play video games together, handy staff offices, and our Great Hall with a Steinway baby grand piano and a large kitchen for student use.
Art that Brings in the World
A multitude of paintings cover the walls and give spaces, such as classrooms, artistic themes. You'll find European medieval art, and art from India, Latin America, Asia, Africa, America, and the Middle East. Recently, students and professors were encouraged to recommend art and vote on their favorite paintings to include in our freshly renovated wing of the building.
All Honors College Students Have Access to Whitmyre
Whitmyre is your building, your home away from home for all four years. You can use all of the student spaces throughout your IUP education, even while you live in another IUP residence hall or off-campus after your first year. Your I-Card access to Whitmyre will end late in the evening each day if you are not a resident, but you can still use the building to study, see friends, work on group projects, talk to staff, play piano, play pool, and relax between classes.
Northern Suites Includes an Honors College Living-Learning Community Open to Returning Students
The IUP residence halls have a variety of suite-style options with private bathrooms for each suite and study lounges on each floor.  One of those Living-Learning options is the Cook Honors College Living-Learning Community for returning honors students. It's located in Northern Suites, right next to Whitmyre, giving you easy access to the resources and academic spaces of the Cook Honors College.