Honors College-Based Trips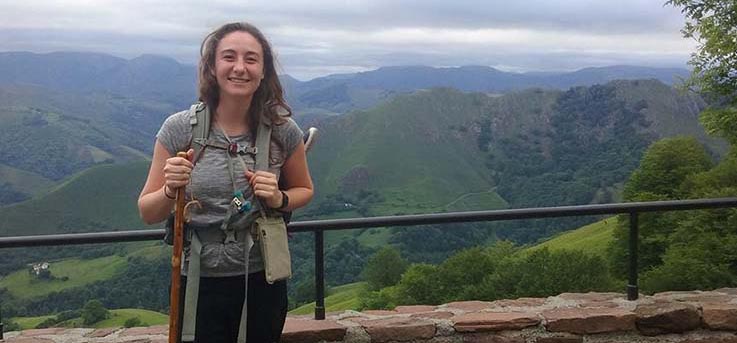 While some students seek out solo travel opportunities, such as study abroad, internships, and research outside IUP, others prefer to share the experience with people they know. If you'd rather do your exploring as part of a group of friends, then these trips might be just right for you.
Adventuring with Your Fellow Honors College Students
Some travel experiences and community service trips are arranged through the Honors College or as a collaborative effort between the Honors College and other departments at IUP.
Cook Honors College Director Caleb Finegan has led several groups of brave and enthusiastic IUP students, such as the student pictured above, along the Camino de Santiago. The groups of about 12 people set out in mid-May from St. Jean Pied de Port on the French side of the Pyrenees Mountains and arrive in Santiago in mid-June. On average, these IUP adventurers walk 16 miles a day. The longest day is 25 miles. Students say it is an extraordinary experience.
Karm Chling: Shambhala Meditation Center
Small groups of students from the Cook Honors College have carpooled to Vermont during spring break for community service trips to the Karm Chling: Shambhala Meditation Center. The Honors College students get a chance to try the meditation sessions and do community service projects such as painting, making minor repairs, and clearing walking trails.
Explore the World with Honors Students from PA Universities
Each of the 14 universities in the Pennsylvania State System of Higher Education is invited to send two students on honors-student trips. The students are funded through their home universities. While not all colleges choose to participate each trip, the Cook Honors College has a long tradition—about 20 years long—of giving this opportunity to students with full funding through the IUP Provost's Office.
A recent trip led by two Cook Honors College Core professors, Matthew Baumer (music history) and Christine Baker (history), investigated the centuries-long relationship between the Hapsburg and Ottoman Empires in terms of their cultures, political systems, and approaches to religion and diversity. After a week of study at IUP, the course featured 14 days in Vienna, Austria, former capital of the Hapsburg Empire, and four days in Sarajevo, Bosnia and Herzegovina, a city founded by the Ottomans in the 15th century.