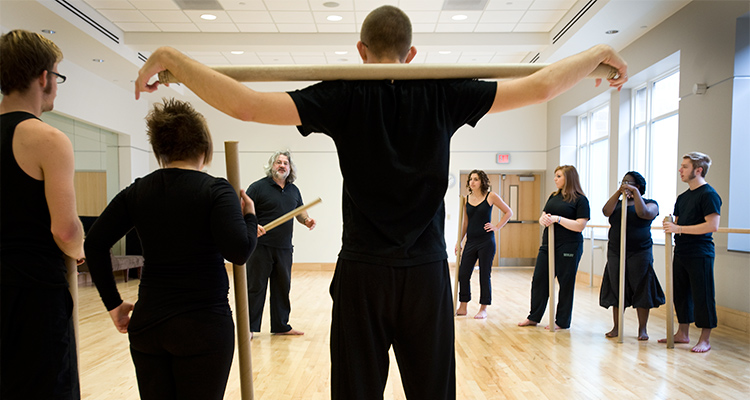 Keep Doing Your Favorite Activities, or Try Something New
With more than 250 student organizations and clubs and additional opportunities, like intramural club sportssomething you loved to do in high school is probably available to you at IUP. There are also opportunities that may not have been options at your high school—like fencing, sailing, a paranormal society, and Ultimate Frisbee.
Perform, Be Creative, Make Your Mark
Auditions for IUP musicals, plays, choral groups, dance groups, the marching band, and instrumental ensembles are, with very few exceptions, open to all IUP students.

In addition to the IUP theater opportunities, the Cook Honors College has its own student theater group, TOST and Turned, which features student-selected and student-written plays.

Take part in regular open mic nights on campus and share your talents with a supportive crowd.

Host or help with a radio show at WIUP-FM or get involved with IUP-TV. Publish your writing in the New Growth Arts Review, a student art and writing publication, or in the Penn, the campus newspaper. You don't have to be a communications media or journalism and public relations major.
Be Adventurous—Beginners are Welcome in Most Clubs
If you are ready to give something new a try, beginners are welcome in most clubs.

You can try out the two equestrian clubs, fencing club, Ultimate Frisbee club, the modeling groups, video games club, the paranormal society, the sailing club, live-action role-playing, and many other organizations and activities.
Lead and Put New Ideas Into Action
You'll have plenty of opportunities to rise to a leadership position in a club if that's something that interests you.

You may want to be a part of IUP's Student Government Association.

Create your own club—a recent Cook Honors College student formed the Whitmyre Warblers, a group of student musicians who delivered songs door-to-door by request throughout Whitmyre.
Go Professional and Build Your Network
You can also join a group or professional organization related to your major, such as the Pre-Law Society, the American Chemical Society, or the Student Accounting Association (IUP's Accounting Career Day is the largest accounting career fair in the region).
Through an academic club, you might attend a professional conference or network with alumni speakers who come to campus.
Learning from Professionals Through Student Organization

"I like the creativity my major allows. I chose my major because it combines two of my favorite subjects in high school, math and art. I'm in the American Society of Interior Designers. This organization allows me to network within my major and meet people who are working in the field. It allows me to learn how people in the industry got started and what helped them get where they are."

Jessica Nordeen, Interior Design major