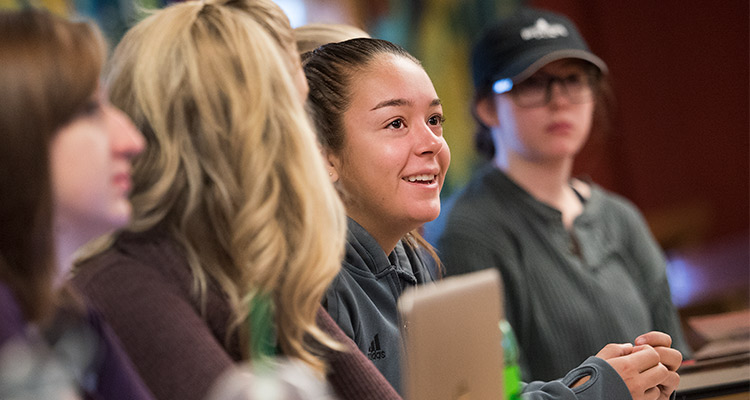 Scholarly, Transformative Community of Students
The Cook Honors College has a unique dynamic that promotes higher-level thinking rather than higher pressure. You'll take no tests in core classes. We challenge our students in different ways—we write together, read together, and exchange ideas in small classes of about 20 students. Our Honors College core courses are built around what we call the Great Questions.
Scholarship Support
We invest in every member of our community of scholars with a four-year scholarship and provide additional funding, when needed, through our Cook Achievement Fund, which helps students afford opportunities such as studying abroad, presenting research at conferences, doing internships, and exploring hands-on opportunities.
Student Opportunities
At IUP, undergraduates are given opportunities some colleges reserve for graduate students, such as working on research with professors. We also encourage you to go beyond the classroom and get involved both in campus organizations and in community service as part of your college experience.
Whitmyre: Your Home on Campus
Whitmyre Hall is the home of our honors program. It provides housing for our first-year Honors College students and upperclassmen and serves as a home base for our students throughout their college years with study areas, gathering places, staff offices, honors core classrooms, and rooms students can use to watch movies or hold meetings.
Here, you'll get the kind of support and advising that makes a real difference. We think going to college is about more than earning a degree. It's about what happens to the whole of you during these four years of your life. We help you work out a four-year plan that makes the most of this time and sets you on your own personal path toward your goals.
Being Selective Lets Us Give You More
We take great care in considering the students who apply to the Cook Honors College. Our selective admissions policy limits the total number of students in the program (freshmen to seniors) to about 400. This gives you a big advantage compared to other Honors College programs that, in some cases, admit more than three times* as many students.
By limiting our numbers, we can give scholarships to each of our students and can offer you more personal attention when you are looking for advice or help. We've found this size is just perfect for building the transformative, open, and scholarly community our students enjoy.
*Average enrollment size in an honors college is around 1,400 students according to a 2017 article by U.S. News & World Report. Our enrollment is about 400.