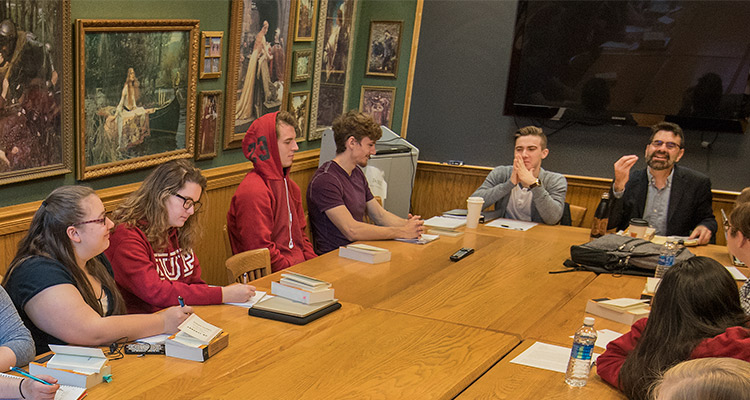 Share Your Insights, Sharpen Your Thinking with the Great Questions
You may have had Advanced Placement (AP), college-in-high-school, dual enrollment, or high school honors classes, but you've never experienced anything like the Cook Honors College Core Curriculum.
Prepare yourself for the excitement of thinking differently about yourself and the world—probing, questioning, debating, and discovering. You'll test old theories and explore new ideas.
The honors core curriculum is based on a series of "Great Questions" that humans have wrestled with from the dawn of time, from Plato to Susan Sontag, from Martin Luther to Dr. Martin Luther King, Jr. This is a program for the intellectually curious. Some of our core questions include:
What is the difference between belief and knowledge?
How do we create and use the past?
How do we discern the good from the bad?
What does it mean to be human?
How do we understand the sacred?
Each question we explore is followed by the same, final question: What, therefore, should we do? It's not just about ideas—it's about transforming ideas into purposeful action. Many of our students have been inspired to support a new cause or start a service project to help others in response to their core class experience.
Creating a Safe Space for All Voices
When a learning community values all perspectives, you can safely explore issues, share concerns, and perhaps find common ground with your peers.  Will we all believe the same thing? No. Reaching a consensus is not the goal. But we can respect and work to understand each other, while challenging bias and unsupported claims. 
In the Cook Honors College you will develop the habit of mind to think critically.  But this takes trust and community to develop.  You will find both in abundance here.
Honors Core Classes Replace General Requirements
As a CHC student, your honors core classes will replace several of the liberal studies classes required of all students. We designed Core this way so you can benefit from student-centered, writing and discussion based honors learning experiences without adding extra time or expense to your degree.