Indiana County Streams Project
The IUP Geoscience area is working in collaboration with Evergreen Conservancy on a number of surface water projects throughout Indiana County. These projects focus on the quality and quantity of surface water in local streams and the natural and anthropogenic impacts within watersheds.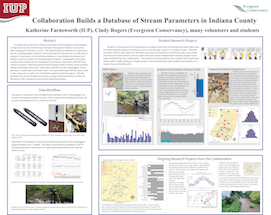 Click image to download the poster "Collaboration Builds a Database of Stream Parameters in Indiana County" (pdf)
For further information, contact:
Katie Farnsworth at kfarns@iup.edu or Cindy Rogers at evergreenconservancy@gmail.com.