Beaver Run Reservoir
IUP-Municipal Authority of Westmoreland County Beaver Run Monitoring Projects
IUP faculty and students have been monitoring surface water quality and air quality in and around Beaver Run Reservoir, a drinking water source managed by the Municipal Authority of Westmoreland County (MAWC). The reservoir lies within a 43-square-mile drainage area and serves approximately 130,000 people throughout northern Westmoreland County and small portions of neighboring Armstrong and Indiana counties.
Surface Water Quality Project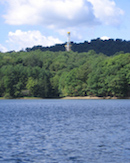 The surface water quality project began in June 2011 and is led by IUP faculty members Brian Okey (Geography, Geology, Environment, and Planning) and Nathan McElroy (Chemistry). They, along with students, monitor surface water quality at a number of sites around and within the reservoir on a quarterly basis. More information and data from this project can be found on the Beaver Run Surface Water Project Wiki.
Image to right: Beaver Run Reservoir with a drill rig in the distance.
Air Quality Project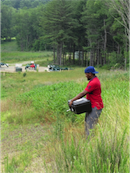 The air quality project began in July 2015 and is led by IUP Physics faculty John Bradshaw. Professor Bradshaw and his students monitor methane levels in the air near four gas production sites, concentrations of compressor gases near the compressor station, and background concentrations in nearby areas. More information and data from this project will soon be available on a Beaver Run Air Quality Project Wiki.
Image to right: IUP graduate student collecting an air sample near the compressor station at Beaver Run Reservoir.