Graduate Survey
The IUP Career and Professional Development Center annually collects the post-graduation activities and status of that year's graduating class. For the best knowledge rate, we administered an online survey, sought additional data from the university's six academic colleges, contracted with a data collection company, and conducted internet searches to verify data.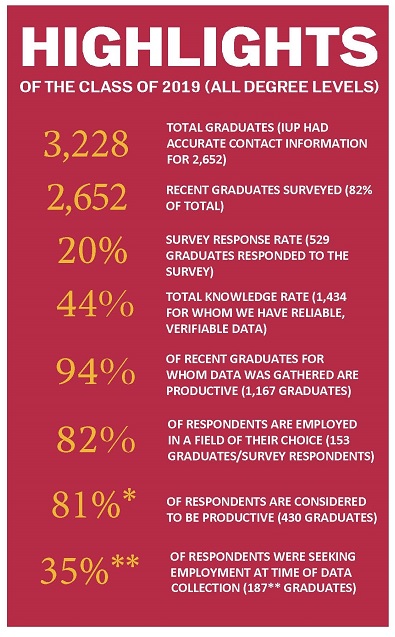 The National Association of Colleges and Employers defines the knowledge rate as the percent of graduates for whom the institution has reliable and verifiable information regarding graduates' post-graduation statuses. This survey report includes survey response results as well as knowledge rate data.
Demonstrating the first-destination success of our graduates is worthwhile. Colleges and universities are scrutinized for the return on investment they provide to students, because of economic challenges and inflation in the US, the cost of higher education, and the demands families/consumers face to meet these costs. We work diligently to stay abreast of the latest trends in workforce development to provide programs and services that contribute to IUP's mission and efforts in academic support, student retention and persistence, enrollment management, and return on educational investment.
It's important to note that we cannot easily measure the total positive effects of a college education, just as indicators of success are not employment and earnings alone. Certainly, as the NACE First-Destination Survey Standards and Protocols document states, "The most significant and substantive outcomes occur over the lifetime of the individual graduate."
Respectfully,
Tammy Manko, EdD
Director
Highlights for the Class of 2019 (all degree levels)
3,228 Total Recent Graduates
(only 2,652 had accurate contact information)
2,652 Recent Graduates Surveyed
(82 percent of total number of graduates)
20 percent Survey Response Rate
(529 graduates responded to the survey)
44 percent Total Knowledge Rate
(1,434 graduates for whom we have reasonable, verifiable data)
94 percent of Graduates for Whom Data was Collected Are Productive
(1,167 recent graduates for whom data was gathered)
Of Survey Respondents...
82 percent Are Employed in Field of Choice
(153 graduates/survey respondents)
81 percent* are Productive
(430 graduates/survey respondents)
35 percent were Seeking Employment
(187 graduates/survey respondents) at time of data collection)
*By including information obtained through research, the productive rate increases from 70 percent to 81 percent, with employment information found for a total of 1,167.
While 187 graduates (35 percent) reported they were still seeking employment, viable information for 96 was found through research methods, bringing the Still Seeking rate to 17 percent.
Definitions
Class of 2019
August 2018, December 2018, and May 2019 graduates
Productive
The percentage of graduates falling into any of the following categories:
employed full-time or part-time
pursuing additional education full-time or part-time
serving in the military or other service organization
not seeking employment or additional education
Total Knowledge Rate
The percentage of graduates for whom we have reasonable and verifiable information regarding post-graduation statuses.
To advance the success of IUP graduates, the CPDC provides multiple opportunities for students and alumni to engage in career education and professional development programs and activities, including, but not limited to, the following:
Mock interviews
Etiquette dinners
Presentations/workshops
Career coaching
Résumé reviews
Cover letter reviews
Internship/job search assistance
Graduate school preparation
Networking events
Service learning/community service
Career/job and internship fairs
On-campus interviews/ recruitment
Career and major exploration
National Student Exchange
The Washington Center
Disney College Program
Select Employers Hiring IUP Graduates
(not a comprehensive list)
ADP*
Allegheny Health Network*
Baker Tilly*
BNY Mellon
Commonwealth of Pennsylvania*
Community College of Allegheny County*
Dedicated Nursing Associates*
DHL Supply Chain*
Enterprise Holdings*
Excela Health*
Imam Abdulrahman Bin Faisal University
Indiana University of Pennsylvania
King Abdullah International Medical Research Center
Lehigh Valley Health Network
Maxim Healthcare Services*
Nordstrom
Ooredoo Palestine
Penn State University*
PNC*
PPG*
Slippery Rock University*
United States Steel*
UPMC*
*Indicates employers who participated in on-campus recruitment or consortium job fairs.
For graduates who reported salary information (214) the average annual income was $46,447.
While some degrees are clearly in higher demand in the workforce, IUP students are provided opportunities for learning about the value of and how to leverage transferable skills and soft skills to complement their classroom experience. Ultimately, the students who master these lessons will be most effective in the workplace. According to current research, employers seek these skills in employees:
Critical thinking and problem solving
Collaboration across networks and teamwork
Leadership with ability to influence others, sell
Technical knowledge related to job
Agility and adaptability; ability to plan, organize, and prioritize work
Initiative, entrepreneurialism, work ethic, professionalism
Effective verbal and written communication
Proficiency with computer software programs
Accessing and analyzing information
Curiosity and imagination
The Graduate First Destination Survey Report for the Class of 2019 was prepared by members of the Career and Professional Development Center team.
Jan Shellenbarger,On-Campus Recruitment/ Technology Coordinator
Tammy Manko,Director
Career Development Advocates (undergraduate student employees)
Special thanks to Nathan Bish, Assistant Director, University Advancement, and Chris Kitas, Associate Director of the Office of Institutional Research, Planning, and Assessment, who were instrumental in the data collection and compilation processes.