Jessica Black '15
Finance and Economics Majors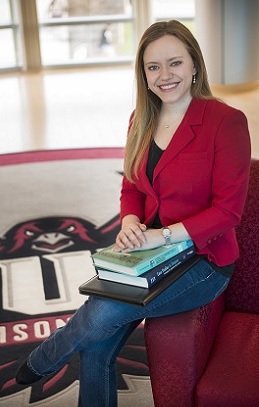 "IUP, and especially the Eberly College of Business and IT, offer value that well exceeds expectations. The Eberly Business Honors Program, faculty, and fellow classmates constantly challenge me to foster my professional growth. I am confident that IUP has provided me with the necessary skills to be successful in life no matter where I end up. I truly appreciate all that Eberly has offered and given to me over the years. I could not be happier with the decision I made four years ago."
I am from Harrisburg, Pennsylvania, where I attended Central Dauphin High School. When it came to selecting the place that would determine my future, IUP was actually not at the top of my list. However, it was not until I visited IUP that I knew IUP was the place I was going to spend the next four years of my life. Also, I knew that I wanted to be challenged during my college career. IUP and Eberly offered just this through the Robert E. Cook Honors College and Eberly Honors Business Program.
What I love most about Eberly is that there are so many areas of studies and opportunities offered. In Eberly, I have been a part of many organizations throughout my four years including Phi Beta Lambda, International Business Organization, Student Managed Investment Portfolio, and most recently COBSAC.
One of my favorite experiences was in the Student Managed Investment Portfolio where I served as the Consumer Sector Leader. During one quarter, my sector performed the best. Thanks to the generosity of the IUP Foundation and their partnership with Eberly, I was able to have this experience to enhance the knowledge that I learned in my major courses.
During the spring semester of my sophomore year, I was hired as a Community Assistant (CA) in Northern Hall. I continued in this position my junior year in Wallwork Hall. For my senior year, I was assigned to Stephenson Hall, the Business Living-Learning Community. As a CA, I act as an academic and personal resource to those living in the residence halls. Although this is considered a job, it never seemed like a job, because I am able to help and make a difference in someone's life. In fact, I received two letters from residents during my junior year as a CA stating how I made a difference and impacted their lives. This feedback made all of the work that I put in as a CA worth it.
As a senior, I am able to make even more of a difference by serving as the Business Living-Learning Committee Chairperson on the staff. As the chairperson, I am given the opportunity to work with Eberly administrators, faculty and student leaders to plan and implement business-related events that provide opportunities to those living within and outside of the Living-Learning Community in Stephenson Hall. Through this experience, I have enhanced my interpersonal, communication, organization, and time management skills. I believe I have further enriched Stephenson by contributing to the legacy of the Business Living-Learning Community.
Overall, I truly appreciate all that Eberly has offered and given to me over the years. I could not be happier with the decision that I made four years ago.