Finance Major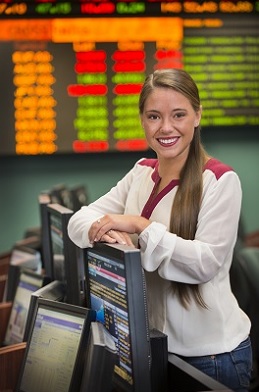 "IUP has granted me with the education and experience that is truly beyond expectations. The faculty and student interaction provides a fantastic learning environment and gives the students a great opportunity to build relationships with professors which many students at other universities, unfortunately, do not have the chance to experience. I have built strong connections with my classmates and many professors throughout the Finance Department and Eberly College of Business and will always appreciate my lifelong relationship with them."
I am from a small town outside of Pittsburgh, Pa., called Harmarville. When looking at universities, I chose IUP because of the location and because it fit everything that I was looking for in a university.
Once I became a student, I realized coming to IUP was one of the best decisions I had made in my young life. I became extremely involved in the Business Honors Program along with the Student Finance Association and the Student Managed Investment Portfolio. I was also given the opportunity to compete in the Chartered Financial Analyst Investment Research Challenge and the Association for Corporate Growth competition, both involving hands-on situations preparing students for "real world" valuation. Because of my involvement, I was awarded the opportunities to attend the largest student investment conference in the world three times, compete, and place eighth in a global value portfolio competition. Networking with IUP alumni and other professionals in the finance industry led me to earning two internships, one as a business systems analyst for a small business and the other as a financial analyst in a corporate bank.
I was awarded the position as portfolio manager for the Student Management Investment Portfolio (SMIP) in August 2013. At that time, the portfolio was on a fast decline. The Foundation for IUP was considering removing the SMIP from investors of Endowment fund due to the poor performance. After much debate, the Foundation decided to keep the SMIP as investors, but demanded new students on the management team.
As the new portfolio manager, I designed daily accounts that every student research analyst had to complete and then present their findings at our weekly meetings. Student analysts were also responsible for looking into economic indicators along with sector trends. From there, all analysts are expected to review the information and start conversations on companies and if we should buy more or sell a company along with researching new companies to add to the portfolio.
This strategy was a great success and started to interest many more finance students. So much so that now the club is offered as a finance elective course needed to fulfill graduation requirements. Because of the success due to teamwork, thorough valuations, and due diligence the SMIP has put forth since August 2013, the Foundation awarded an additional $100,000 of investible capital.

I am very fortunate to have received several job offers from mid-size and large banks, investment firms, and other corporate companies nationwide. I attribute this, not only to my hard work and great experiences, but also due to the reputable education that IUP and the Eberly College of Business and Information technology offers.