Accounting Major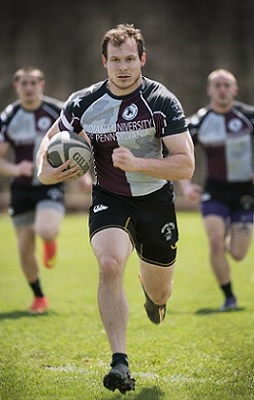 "IUP provides you with all the resources that you need to develop into a professional and self-sufficient human being. Eberly has a rigorous curriculum, which can give you the knowledge to succeed in a career of your choosing. This is an environment where output is directly related to input. What you take away from the experience is truly up to you."
I attended high school in a small town near Annapolis, MD on the eastern shore. I heard about IUP from my uncle who is an IUP alumnus.
I had a hard time choosing a major and eventually decided I wanted to be in the business college, simply because it seemed to be one of the strongest programs the school had to offer. I chose accounting as a major because I enjoy working with numbers. Over the course of my time at IUP, I have had a great experience, striking the appropriate balance between work and fun. I think I have taken advantage of a lot of what IUP has to offer.
As far as my principles are concerned, I have always placed a high value on integrity and work ethic. I think my grades reflect these beliefs. I have achieved academic success, but it was by no means easy. I appreciate the challenges, both education and time constraints that IUP has exposed me to.
I have been a player on the Men's Rugby Team since the Fall of 2012. I was voted team captain in the Spring of 2013. This activity has benefited me in a variety of ways. I work very hard on my schoolwork and playing a sport provided a great stress reliever. I had to learn time management skills to be able to attend all practices and continue my academic success.
I think my participation benefited the team. We practice five days a week and have a coach present two of those days. The other three days the captain also acts as a coach. As captain, I believe I was able to teach discipline and provide an appropriate standard of what is expected from a teammate and an individual. I implemented a strict practice attendance policy and also stressed the importance of attending class. I did not stop my expectations by simply showing up. I tried to convey to players the importance of hard work and the benefits it provides, even if one of those benefits is not instant gratification.
My overall experience as a student at IUP and ECOBIT has been a pleasant journey that has allowed me to grow over my years here.