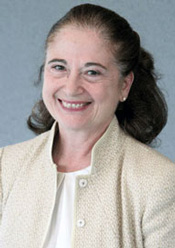 Sarah Tambucci is in her tenth year as director of the Arts Education Collaborative based in Pittsburgh. Her experience as a visual arts teacher, department chair, and principal provides her with extensive experience in education and the arts. In addition, Tambucci has been an adjunct faculty member at Carlow University, University of Pittsburgh, and Carnegie Mellon University.
Her most noteworthy leadership positions include past president of the National Art Education Association and past president of the Pennsylvania Art Education Association. She is the author of numerous articles on issues related to leadership and policy influencing.
Tambucci serves on advisory boards and committees that support arts and education throughout the region, state, and nation, including Gateway to the Arts Education Advisory Panel, Pittsburgh Ballet Theatre Teachers' Advisory Council, Carnegie Museum of Art Program Committee, Charles Gray Awards Committee, Allegheny Intermediate Unit Strategic Planning Committee, Greater Pittsburgh Arts Alliance Board Member, Focus on Renewal Father Ryan Arts Center Planning Committee, Partnership Panel Member of the Pennsylvania Council on the Arts, and Arts Learning Panel of the National Endowment for the Arts.
Among many tributes, she is the 2006 recipient of the Governor's Award for Outstanding Leadership in Arts Education. She is a passionate advocate for the role of the arts as part of a comprehensive education and speaks with regularity as a keynote and as a panelist.